id:1349264
2001 Toyota Touring Hiace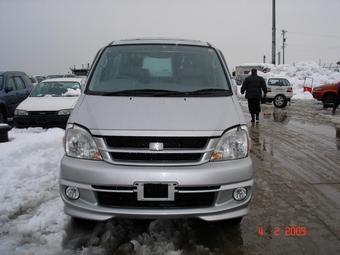 Photo Information (Width: 340px, Height: 255px, Size: 14Kb)
More photos of
Toyota Touring Hiace
Toyota Touring Hiace Problems
Hard start
1998, took car for general service after having
problem with hard start & lots of smoke .c...
Body parts spares
1999, Got an accident and needs 2 front
doors,rear and front wind screens,side wind
screens,si...
Idles to fast
2001, My van idles too fast. How do I access
the other side of the carburetor? Is there an
e...
| | |
| --- | --- |
| Engine size - Displacement - Engine capacity: | 3000 cm3 |
| Fuel Type: | Diesel |
| Drive wheels - Traction - Drivetrain: | 4WD |
| Price (out of date): | $22500 |
2001 Toyota Touring Hiace specs, Engine size 3.0l., Fuel type Diesel, Drive wheels 4WD
| | |
| --- | --- |
| | The Toyota Hiace is a motor vehicle produced by the Japanese manufacturer Toyota. First launched in 1967, the Hiace has since been available in a wide range of configurations, including minivan (MPV) and minibus, van, pick-up, taxi, ambulance and motorhome. |
Used Toyota Touring Hiace
1st generation
Introduced in 1967, the Hiace was offered as cab-over pick-up, delivery van, and Commuter. And also named Hiace Commercial as a campervan. A very rare model these days mostly because of weather wear and rust, in Europe most of the vans are exported to Africa as they enjoy a longer life there.
2nd generation
The new Hiace of 1977 featured a smoother cab with single headlights. In addition to the petrol engine, a 2.2-litre diesel engine was offered in certain markets. New for the "20-40 series" Hiace were double-cab pick-up, super-long-wheelbase van, and high-roof Commuter.
When the third generation was released in 1982, certain variants of the 2nd generation were still built for several years after.

3rd generation
A new Hiace van was launched in 1982, with the Hiace pick-up coming later; the cab was shared with the bigger Toyoace light truck, however with different frontal styling. The Van is coded 50-series for short wheelbase, 60 for long, and 70 for super long. The pick-up trucks are 80 and 90-series. The Toyota Mobile Lounge, displayed at the 1987 Tokyo Motor Show, is based on the Hiace high-roof Commuter. While the van and Commuter were redesigned in 1989, the pick-up lasted until mid-1990s. This was the last Hiace pick-up.




» Read More About Toyota Touring Hiace