id:a1240510911b2634223
2003 Toyota Hiace Van
Photo #5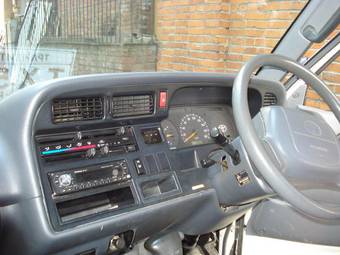 Photo Information (Width: 340px, Height: 255px, Size: 16Kb)
More photos of
Toyota Hiace Van
Toyota Hiace Van Problems
Indicator lights
2008, indicator and hazard lights will not work
on drvers side changed bulbs and 10amp fuse pa...
Fuel problem
1999, My car fuel consumption is 1 gallon 28
kilo, so pls check for me my car problem . My
car...
Toyota hiace kdh201r
2007, Hi , i have a mysterious problem with my
2007 toyota hiace kdhr201r , i have engine off ...
| | |
| --- | --- |
| Engine size - Displacement - Engine capacity: | 2000 cm3 |
| Transmission Gearbox - Number of speeds: | Automatic |
| Fuel Type: | Gasoline |
| Drive wheels - Traction - Drivetrain: | FR or RR |
| Price (out of date): | $9561 |
2003 Toyota Hiace Van specs, Engine size 2.0, Fuel type Gasoline, Drive wheels FR or RR, Transmission Gearbox Automatic
| | |
| --- | --- |
| | The Toyota Hiace is a motor vehicle produced by the Japanese manufacturer Toyota. First launched in 1967, the Hiace has since been available in a wide range of configurations, including minivan (MPV) and minibus, van, pick-up, taxi, ambulance and motorhome. |
1st generation
Introduced in 1967, the Hiace was offered as cab-over pick-up, delivery van, and Commuter. And also named Hiace Commercial as a campervan. A very rare model these days mostly because of weather wear and rust, in Europe most of the vans are exported to Africa as they enjoy a longer life there.
2nd generation
The new Hiace of 1977 featured a smoother cab with single headlights. In addition to the petrol engine, a 2.2-litre diesel engine was offered in certain markets. New for the "20-40 series" Hiace were double-cab pick-up, super-long-wheelbase van, and high-roof Commuter.
When the third generation was released in 1982, certain variants of the 2nd generation were still built for several years after.

3rd generation
A new Hiace van was launched in 1982, with the Hiace pick-up coming later; the cab was shared with the bigger Toyoace light truck, however with different frontal styling. The Van is coded 50-series for short wheelbase, 60 for long, and 70 for super long. The pick-up trucks are 80 and 90-series. The Toyota Mobile Lounge, displayed at the 1987 Tokyo Motor Show, is based on the Hiace high-roof Commuter. While the van and Commuter were redesigned in 1989, the pick-up lasted until mid-1990s. This was the last Hiace pick-up.




» Read More About Toyota Hiace Van