id:a1252777818b3023429
Toyota Celica Specs The Celica is powered by a 1.8 liter DOHC 4 cylinder with 140hp (GT-S model with 180hp). Standard features include 15 inch wheels/tires and 5 or 6 speed manual transmission. Options include ABS and 4 speed automatic transmission.
2002 Toyota Celica
Photo #1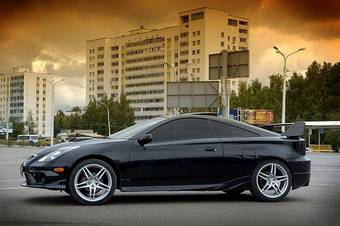 Photo Information (Width: 340px, Height: 226px, Size: 15Kb)
More photos of
Toyota Celica
Celica Troubleshooting
Battery cables reversed...what relay fried?
1992, I'm an idiot. I put in a new battery
but reversed the positive/negative wires for a...
Wont shift in to 2,4,or reverse
1991, wont shift in to 2, 4 or reverse
sometimes i have no problem shifting in to 1,
3, or 5th...
High fuel intake ,fuel gauge not working
2007, high fuel intake , petrol gauge at the
tank does not read properly it gives wrong
readin...
| | |
| --- | --- |
| Engine size - Displacement - Engine capacity: | 1800 cm3 |
| Transmission Gearbox - Number of speeds: | Manual |
| Fuel Type: | Gasoline |
| Drive wheels - Traction - Drivetrain: | FF |
| Price (out of date): | $17904 |
2002 Toyota Celica specs, Engine size 1.8, Fuel type Gasoline, Drive wheels FF, Transmission Gearbox Manual
For the high-performance versions of the Celica, see Toyota Celica GT-Four.

The Toyota Celica name has been applied to a series of popular coupes made by the Japanese company Toyota. The name is ultimately derived from the Latin word coelica (IPA [selika]) meaning "heavenly" or "celestial".[citation needed]
Used Toyota Celica
Throughout its life span the Celica has been powered by various four cylinder engines. The most significant change occurred in 1986, when the car's drive layout was changed from rear wheel drive to front wheel drive. During the first three generations, American market Celicas were powered by various versions of Toyota's R series engines. A four-wheel drive turbocharged model (designated All-trac in the US or GT-Four in Japan and Europe) was produced from 1986 to 2000. Variable Valve Timing came in late 1997 Japanese models, and became standard in all models from 2000 on. Through seven generations, the model has gone through many revisions and design forks, including the Toyota Celica Supra (later known as the Toyota Supra). The Celica was available as notchback and liftback coupes, as well as a convertible.

The first generation Celica was released to the Japanese market in late 1970, and targeted to be a more affordable alternative to Toyota's sportscar, the 2000GT.



» Read More About Toyota Celica