id:1859389
1997 Toyota Carina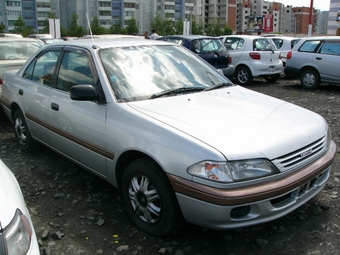 Photo Information (Width: 340px, Height: 255px, Size: 77Kb)
| | |
| --- | --- |
| Engine size - Displacement - Engine capacity: | 2000 cm3 |
| Transmission Gearbox - Number of speeds: | Automatic |
| Fuel Type: | Diesel |
| Drive wheels - Traction - Drivetrain: | FF |
| Price (out of date): | $7200 |
1997 Toyota Carina specs, Engine size 2.0, Fuel type Diesel, Drive wheels FF, Transmission Gearbox Automatic
| | |
| --- | --- |
| | The Toyota Carina was a Japanese compact car, initially launched in 1970 and exported to Europe, the USA and UK. It finished production in 2000 as a mid-sized four-door sedan sold in the Japanese market. It was typically marketed as a four-door version of the Celica. Over time, it became a sister car to the Corona but was sportier, with distinctive bodywork and interior—aimed at the youth market and generally filling a niche between the Corolla and Corona. At that point it was replaced by the Allion. |
Used Toyota Carina
The Carina name has been used in markets other than the USA at various times to represent other cars, usually the Corona. However, the Japanese-market Carina was a different car entirely.
According to the Toyota Carina article in Japanese Wikipedia, the inspiration for the name Carina came from the Carina star cluster.
The first-generation Carina was manufactured in 1970 (and launched in the UK in October 1971). It was also exported to the US, but sales volumes were disappointing. US exports stopped after only 2 years.
The following details applied to models landed in the UK:
1971 1588-cc OHV engine, 4-speed gearbox and front-wheel disc brakes.
1972 Revised body details, new rear light cluster and filler cap repositioned in rear quarter panel, restyled front grille and fascia.
1974 Revised specification including sealed cooling system, improved brakes, restyled wheels with flared wheel arches, and restyled interior fittings.
1976 New front and rear-end styling, dual-line braking system with servo and a repositioned handbrake and gear lever. Wheelbase was increased slightly.


» Read More About Toyota Carina