id:2819544
2003 Toyota Allion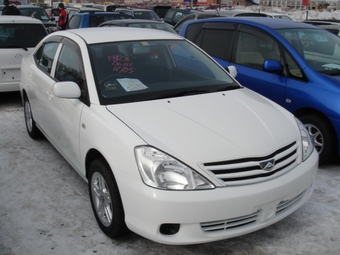 Photo Information (Width: 340px, Height: 255px, Size: 66Kb)
More photos of
Toyota Allion
Toyota Allion Problems
DASH BOARD MULFUNCTION
2003, WHIN I START THE CAR ALL DASH BOARD
INDICATORS ARE ON AND OFF IT WILL TAKE 10
MINITUS AF...
Cannots start
2014, Vehicle starts, Has engine check
indication Then it disappears after about 2
minutes ...
Gear position and shifting
2007, The problem is that gear position is not
showing on the dash board. Thats when in park &...
2003 Toyota Allion specs
The Toyota Allion is a compact sedan sold in Japan by Toyota.

The name is created based on the phrase "all-in-one".

Launched December 25, 2001, it replaced the Toyota Carina, a model that first appeared in 1970. The Allion has a emphasis towards younger buyers in comparison to the Toyota Premio sedan, which has a more elegant approach, and both were launched at the same time. The Premio and the Allion share the same engines and interior. The Allion can be customized with front spoilers and rear mounted trunk wings, as well as ground effect body parts to enhance the vehicles appearance specially designed and sold by Toyota. The Allion continues the Toyota tradition by being made for taxi usage, driving school and law enforcement versions.
Used Toyota Allion
December 20, 2004, the Allion received a modest restyle with the introduction of LED taillights.

The second generation was introduced June 4, 2007, with Toyota continuing to offer appearance modifications at local dealerships, with AWD being offered on vehicles equipped with the 2ZR-FE 1.8 L direct injection engine.



» Read More About Toyota Allion