id:1912769
1999 Suzuki Every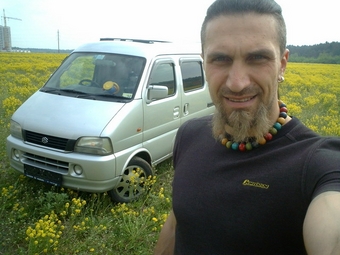 Photo Information (Width: 340px, Height: 255px, Size: 69Kb)
More photos of
Suzuki Every
Suzuki Every Problems
Low engine level
2011, Engine Oil level is always low even after
refill though no any sign of leakage on the en...
Automatic transmission 3rd gear issue
2007, Automatic transmission gear shifts at
high rpm after sfiting the 2nd gear it become
netu...
There is sound
2017, My car is every 2009 There is sound in
my car when it is in low speed but in high
speed...
| | |
| --- | --- |
| Engine size - Displacement - Engine capacity: | 1300 cm3 |
| Transmission Gearbox - Number of speeds: | Automatic |
| Fuel Type: | Gasoline |
| Drive wheels - Traction - Drivetrain: | FR or RR |
| Price (out of date): | $8300 |
1999 Suzuki Every specs, Engine size 1.3l., Fuel type Gasoline, Drive wheels FR or RR, Transmission Gearbox Automatic
| | |
| --- | --- |
| | The Suzuki Carry is a pickup truck produced by the Japanese automaker Suzuki. The van version is sold as Suzuki Every. In Japan, the Carry and Every are Kei cars but Suzuki Every Landy, the bigger version of Every had a longer hood for safety purposes and a larger 1.3-liter 82hp (61kW) 4-cylinder engine. |
The Carry was constructed with a ladder frame architecture. The van version was a five-door, with dual sliding rear side doors; available as rear-wheel drive or four-wheel drive.
Early models (1960-1970s) had a 360 or 450(export model)cc 2-cylinder, 2-stroke engine mounted horizontally underneath the load area. The starter and generator were combined and mounted directly on the front of the crankshaft. Later models had an 550, 660 and 800(export model)cc 3-cylinder, 4-stroke engines unconventionally mounted beneath the cab.
In 1976 the ST20K was released.The "K" referred to the "trucklike" nature of the vehicle in that it had 3 drop sides as opposed to the utility version which had only a tailgate and formed sides.It had a 3 cylinder 539cc water cooled 2 stroke engine and a carrying capacity of 350kg (772lb).
Length: 3710mm (146in)
Width: 1505mm (59in)
Height: 1900mm (74in)
Wheelbase: 2350mm (93in)
Weight:

2WD: 1010-1040kg
4WD: 1050-1080kg

Engine: G13B 4-cylinder SOHC 16-valve
Displacement: 1298cc EPI,
Maximum output: 82hp (61kW) @ 6000rpm
Chassis prefixes for Japanese domestic market Suzuki Carry trucks



» Read More About Suzuki Every