id:a1175495720b1204276
2004 Suzuki Alto
Photo #1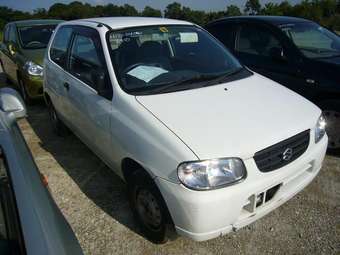 Photo Information (Width: 340px, Height: 255px, Size: 12Kb)
More photos of
Suzuki Alto
Suzuki Alto Problems
Rattle inside the car
2011, rattle when travelling on a road that is
slightly bumpy noise coming from drivers door ...
Low quality
2021, Low quality manufacturing: plastic feels
only marginally better than the type used for w...
Misfiring and stalling
2006, Car starts ok, but idled irregularly.
Starts off driving ok, then after minutes of
drivi...
2004 Suzuki Alto specs
The Suzuki Alto is a very small car (kei car) designed by Suzuki. Its selling points include low price and good fuel economy. The model was introduced in 1979 and has been built in many countries worldwide.

The first generation (SS40) was a 3-door version of the 4-door Fronte. The Alto used a 543-cc 3-cylinder engine producing 28hp (21kW). In addition to the Alto and Fronte, a 3-door coupé (Cervo) and a 2-door pick-up (MightyBoy) were also available.
Used Suzuki Alto
The 2nd-generation (CA71/ 72) (see 1st photograph in this page) was introduced in 1984. It continued with the SS40's engine, but was also available with turbocharged and multi-valve engines. A 5-door body (identical to the Fronte's) became available in 1985. A Cervo on the SS71 base was introduced in 1988, with a new 547-cc engine.

The 3rd-generation (CL11/ 21/ 22) replaced the CA71 in 1988. It had strikingly angular styling, with an unusual glazed C-pillar on the 5-door. Initially it used the SS71 Cervo's engine, but when the kei-car standards were changed in 1990 the capacity was increased to 657 cc. This was the last generation of Alto to have an associated Fronte model. An unusual feature of this generation was the availability of a version with sliding doors, the Slide Slim, intended to make it easier to enter and exit in tight spaces. Suzuki also produced a version (the Hustle) with a high roof behind the front seats, which was unusual in that it used a modification of the Alto's body rather than a completely new body; this made it possible to link the Hustle with the Alto, but made the styling rather unharmonious.



» Read More About Suzuki Alto