id:a1216821870b1906349
2004 Subaru PLEO
Photo #8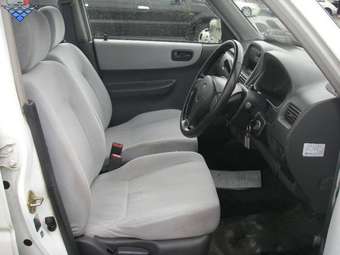 Photo Information (Width: 340px, Height: 255px, Size: 10Kb)
More photos of
Subaru PLEO
PLEO Troubleshooting
Problems
2016, After few days jick light icon show and
now and echo show hide already scan but did not
...
Engine goes off/Power Train
1998, The engine goes off when driving and then
regains after about 2 hours. What can I do? T...
A/C
2007, hi, the problem is my car A/C is not
working properly. second his mileage is very
low...
2004 Subaru PLEO specs: mpg, towing capacity, size, photos
The Subaru Pleo is a compact kei car made by Subaru.

It was launched in Japan on October 9, 1998, replacing the Vivio, when Japanese regulations dictated a size change in the kei car tax bracket, and every kei car model from every make was redesigned as a result.
In June 1999, Subaru launched a luxurios of the Pleo, called the Nesta.

In October 1999, a sporty version of the Pleo was launched, called the LS.

In May 2000, Subaru launched a G Edition of the Pleo Nesta.

In December 2000, Subaru launched a retro-styled Pleo called the Pleo Niccoto.

In May 2001, a very sporty version of the Pleo was launched, called the RS.

In October 2001, the Pleo got its first face-lift.

In October 2002, a second face-lift for the Pleo was launched.

A related car, the R2, was introduced on December 8, 2003. However, the Pleo is still available as an affordable model with low-end engines.

In June 2007, the Pleo Van was launched.

The Pleo is taller than conventional kei car hatchbacks, but still shorter than the definitive kei car minivan, the Suzuki Wagon R.

It was (and still is) available with a variety of 658cc I4 engines: SOHC, DOHC, and supercharged in two different trim levels.



» Read More About Subaru PLEO