id:a1218526239b1957428
1999 Subaru Forester
Photo #2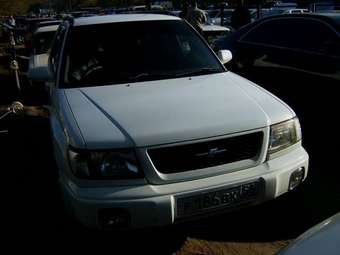 Photo Information (Width: 340px, Height: 255px, Size: 8Kb)
More photos of
Subaru Forester
Subaru Forester Problems
Language
2004, Change language on Navigation screen from
Japanese to English, How to save music into Ca...
Front and rear socks
1997, I am failing to get new shocks to
replace the damaged ones. My Subaru Fores...
Speedodometer
1998, trying to get test procedure for speed
sensor spewedodometer not working what more is
th...
The Forester comes with a 2.5-liter SOHC 16-valve flat-4 with 165 hp and your choice of a 5-speed manual or a 4-speed automatic. It's only available in a 4 wheel drive model.
1999 Subaru Forester specs
| | |
| --- | --- |
| | The Subaru Forester, is a tall, all-wheel drive Compact Sports Utility Vehicle (SUV) manufactured since 1997 by Subaru — currently in its third generation and now marketed as a compact crossover. Originally introduced to the United States in 1998, the Forester shared its platform with the Impreza up to the third generation and now features a hybrid platform of the Japanese Impreza wagon and the rear platform of the U.S.-spec Impreza sedan. |
Used Subaru Forester
According to the Subaru Forester article on Japanese Wikipedia, the name is coined to imply "a resident of the forest."

The Forester was introduced at the Tokyo Motor Show November 1995 as the "Sutoriga" concept and made available for sale February 1997 in Japan, and to the American market in 1998, using the Impreza platform but with the larger 2.5-liter horizontally opposed four-cylinder engine from the Outback, making 165horsepower (123kW) at 5,600 rpm and 162lb·ft (220N·m) of torque at 4,000 rpm. In Japan, the Forester replaced the Subaru Impreza Gravel Express, known in the USA as the Subaru Outback Sport. Due to the Forester's low center of gravity, it meets the United States federal safety standards for Passenger Vehicles, and does not require a risk of rollover warning label on the driver's visor. Size and price wise it fits between the smaller Impreza, and the larger Legacy.

As with all Subaru models marketed in the United States and other international markets since the early 1990s, the Forester is equipped with an all-wheel drive drivetrain. Subaru advertising employed the slogan "SUV tough, Car Easy" to appeal to the SUV-oriented market; and to this end, the Forester from its inception had features associated with SUVs such as a large, boxy cargo area, higher h-point seating and more ground clearance while based on unibody rather than body-on-frame construction. In this sense, the Forester met the criteria of the term crossover before the term appeared. Notably, the third generation of the Forester is marketed by Subaru as a crossover.



» Read More About Subaru Forester