id:a1252098134b3003994
1997 Renault Scenic
Photo #1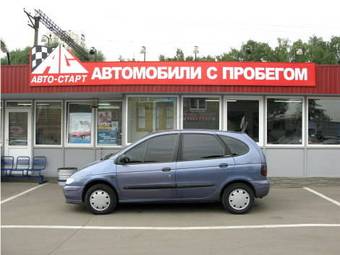 Photo Information (Width: 340px, Height: 255px, Size: 14Kb)
More photos of
Renault Scenic
Renault Scenic Problems
Llave
1999, La llave del vehiculo tiene un boton
pulsador que desbloquea el vehiculo para el
encendi...
Urgent
2002, the back break lining and back beam,also
Ac compressor the cost etc,the speedometer cabl...
Power loss
2004, My Renault has no power. Feels like
I'm Towing a truck, my consumption has
also inc...
| | |
| --- | --- |
| Engine size - Displacement - Engine capacity: | 1600 cm3 |
| Transmission Gearbox - Number of speeds: | Manual |
| Fuel Type: | Gasoline |
| Drive wheels - Traction - Drivetrain: | FF |
| Price (out of date): | $8499 |
1997 Renault Scenic specs, Engine size 1.6, Fuel type Gasoline, Drive wheels FF, Transmission Gearbox Manual
| | |
| --- | --- |
| | The Renault Scénic is a compact MPV produced by French automaker Renault, the first to be labelled as such in Europe. It is based on the chassis of the Mégane small family car. It became European Car of the Year on its launch in late 1996. |
The Megane Scénic can be traced back to a concept car designed under the supervision of Anne Asensio, then Head of Design at Renault. The Scénic was mechanically identical to the Mégane hatchback (itself based on the older R19). The 1.4L, 1.6L "Energy", 1.8L "F-type" petrol and 1.9L diesel engines were shared with the hatchback range. The Scénic was aimed at those who wanted all the practicality of a multi-purpose vehicle, but could not accommodate the larger size and higher price of such vehicles as Renault's own Espace. Renault underestimated the sales impact that the Scénic would have — predicting that it would be a niche model with only 450 produced a day. Production at the company's Douai plant would eventually peak at nearly 2500 cars a day. With the Scénic, Renault created a new market segment — the compact MPV, and the concept was quickly imitated by other manufacturers.
Phase 2 (1999)
Along with the Mégane hatchback, the Scénic underwent a minor frontal restyle in 1999 and the newer 16-valve engines introduced. From the time of this restyle, it became officially known as the Renault Scénic, although a small "Mégane" badge still appeared on the rear door signifying the car's origin. This model is still built in Brazil with flexible fuel engines.



» Read More About Renault Scenic