id:a1242974402b2711736
The Grand Am is offered as a two-door coupe or four-door sedan with a 2.4-liter, 150-hp 4 cylinder or a 3.4-liter, 170-horse (175 horses in the Ram-Air-equipped GT) V-6. Choose between a 5-speed manual or a 4-speed automatic. ABS is standard.
1993 Pontiac Grand AM
Photo #1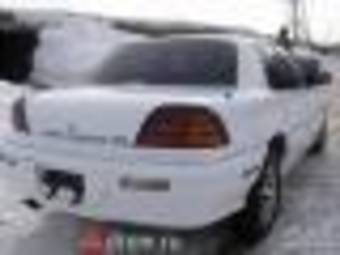 Photo Information (Width: 340px, Height: 255px, Size: 7Kb)
| | |
| --- | --- |
| Engine size - Displacement - Engine capacity: | 2300 cm3 |
| Transmission Gearbox - Number of speeds: | Automatic |
| Fuel Type: | Gasoline |
| Drive wheels - Traction - Drivetrain: | FF |
| Price (out of date): | $3020 |
1993 Pontiac Grand AM specs, Engine size 2300cm3, Fuel type Gasoline, Drive wheels FF, Transmission Gearbox Automatic
| | |
| --- | --- |
| | The Pontiac Grand Am was originally a mid-size car and later a compact car that was produced by the Pontiac division of General Motors. The Grand Am had two separate 3-year runs in the '70s: from 1973 to 1975 and again from 1978 to 1980. It was based on the GM A platform. Production of the Grand Am was canceled in 1980 when it was replaced by the Pontiac 6000. The Grand Am was reintroduced in 1985 when it replaced the Pontiac Phoenix. It was Pontiac's best selling car and later replaced by the Pontiac G6, so named as it was intended to be the 6th generation of the Grand Am. Grand Ams were built between 1973 and 1985 in Pontiac, Michigan at Pontiac's main assembly plant and [Atlanta, Ga] at GMAD Lakewood. All Grand Ams between 1985 and 2005 were built in Lansing, Michigan at the Lansing Car Assembly. |
The original Grand Am was introduced in the fall of 1972 as a 1973 model. It was based on the GM A-body platform along with other cars such as the Pontiac LeMans, Pontiac GTO, Chevrolet Chevelle, Buick Century, and the Oldsmobile Cutlass Supreme. The GM A-body platform had major design revisions in 1973 that included the elimination of pillarless hardtops due to proposed federal rollover standards, but with frameless windows similar to that of a hardtop. No convertibles were produced due to those same federal rollover standards (that never were enacted). In addition to federal emissions regulations that reduced performance, new federal standards required a 5mph (8.0km/ h) impact-resistant front bumper and a 2.5mph (4.0km/ h) impact-resistant rear bumper, which increased to 5mph (8.0km/ h) for 1974.
1973
The Grand Am, coined by Pontiac with a name derived from two other cars in its lineup ("Grand" signifying "Grand Prix luxury" and "Am" for "Trans Am performance") was designed as American's answer to European luxury/ sport sedans and available as a 4-door Colonnade sedan or a 2-door Colonnade coupe. 43,136 Grand Ams were built during the first year of production (both two door and four door models).



» Read More About Pontiac Grand AM