id:1551501
1993 Peugeot 405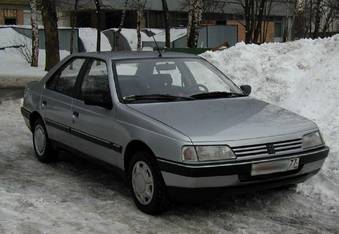 Photo Information (Width: 339px, Height: 234px, Size: 14Kb)
| | |
| --- | --- |
| Engine size - Displacement - Engine capacity: | 1600 cm3 |
| Transmission Gearbox - Number of speeds: | Manual |
| Fuel Type: | Gasoline |
| Drive wheels - Traction - Drivetrain: | FF |
| Price (out of date): | $4000 |
1993 Peugeot 405 specs, Engine size 1600cm3, Fuel type Gasoline, Drive wheels FF, Transmission Gearbox Manual
The Peugeot 405 is a large family car released by the French automaker Peugeot in July 1987 and which continues to be manufactured under license outside France. The 405 was voted European Car of the Year for 1988.

It has been available in left-hand and right-hand-drive versions, as a saloon and station wagon, in front-wheel, and four-wheel drive. Designed by Pininfarina, the 405 shares its platform with the Citroën BX that appeared in 1982, although the physical appearance of the two cars is very different.
About 2.5 million vehicles have been sold worldwide. It slotted into the Peugeot range between the smaller 309 and the larger 505, giving it a firm rival for the Ford Sierra and Vauxhall Cavalier/ Opel Vectra.
The 405 was the last Peugeot vehicle sold in the US, the company withdrawing in 1991.
Designed in France, it has been manufactured in:
Europe: from 1987 to 1997 at Sochaux (France) and Ryton (UK).
Zimbabwe: until 2002, by Quest.
Egypt: Wagih Abaza produces the 405, as well as marketing other models.
Iran: currently produced by Iran Khodro.
Argentina:Several saloon models, including diesels were built in the Villa Bosch Peugeot facility from 1992 to 1999. In this country the 405 has been an extremely popular car, with total sales of over 500,000 units.
Poland: Produced by FSO Lublin.
Iranian variants
Iran Khodro also produces several models derived from the 405. The Peugeot Pars, also known as the Peugeot Persia, is a facelifted 405 with a redesigned front end including clear lamp lenses and a revised rear. The Peugeot RD is a rear wheel drive car which has a 405 body and mechanical parts from the Paykan. Since 2006, it has been sold in certain Middle Eastern markets as the Peugeot ROA.



» Read More About Peugeot 405