id:1210303
2001 Nissan Wingroad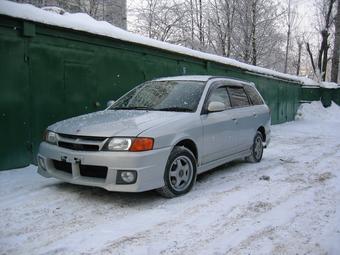 Photo Information (Width: 340px, Height: 255px, Size: 17Kb)
| | |
| --- | --- |
| Engine size - Displacement - Engine capacity: | 105 cm3 |
| Transmission Gearbox - Number of speeds: | Automatic |
| Fuel Type: | Gasoline |
| Drive wheels - Traction - Drivetrain: | FF |
| Price (out of date): | $10800 |
2001 Nissan Wingroad specs, Engine size 0.1, Fuel type Gasoline, Drive wheels FF, Transmission Gearbox Automatic
| | |
| --- | --- |
| | The Nissan Wingroad is an automobile available only as a compact station wagon. The first generation (Y10) was originally an estate version of the Nissan Sunny made between 1994 and 1998, but with a different rear end compared to the standard Sunny wagons that were exported. |
Used Nissan Wingroad
The second series (Y11) began in 1996, once again available only with a station wagon body, sold in the Japanese and Caribbean markets. It is mechanically based on the Sunny B15 but has a different exterior design. The interior design is shared with the Japanese market Nissan Sunny B15 as well. The car slotted in the market between the Bluebird Sylphy and the Primera, available with 1.5L, 1.8L and 2.0L engines. The 1.8L exists only as a 4WD version. The second generation Wingroad received a facelift in 2001, with a sleeker front end and a new interior.
An all-new Wingroad (Y12) debuted in late 2005, now sharing its platform with the smaller Tiida, while the Lafesta takes the Wingroad's former position as the estate version of the Sylphy. Like the Tiida, it has a wheelbase of 2600mm, and the new HR15DE and MR18DE engines. CVT is optional. The e4WD all wheel drive system is available with the smaller engine.
Rebadged variants
Mazda Familia - Introduced in 1995 to replace the obsolete Mazda Familia Wagon on the Japanese home market. It is unrelated to the Familia passenger car range, and kept the Familia name after the car range was replaced by the Mazda3. There is now a new Familia, based on the Y12 shape Wingroad.
Subaru Leone - A model produced in the mid 1990s sold primarily as a light commercial vehicle.


» Read More About Nissan Wingroad