id:a1338179415b7645512
Nissan Specs Featuring dramatic styling cues, the Murano is the latest addition to the Nissan sport utility line-up.
2012 Nissan Murano
Photo #1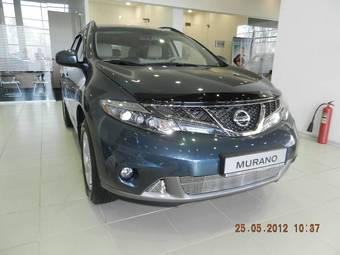 Photo Information (Width: 340px, Height: 255px, Size: 13Kb)
More photos of
Nissan Murano
Murano Troubleshooting
Service engine soon light is showing
2002, The car tracks off after long term
steaming and restarts after about 30minutes of
engine...
Fuel gauge
2005, my 2.5L murano has fuel gauge problem
which nobody can fix it right. Looking for
reputab...
Sensor
2005, Cam sensor malfunction po340 where I
recate the can sensor on murano after
detatingthe e...
| | |
| --- | --- |
| Engine size - Displacement - Engine capacity: | 3500 cm3 |
| Transmission Gearbox - Number of speeds: | CVT |
| Fuel Type: | Gasoline |
| Price (out of date): | $53348 |
2012 Nissan Murano specs, Engine size 3.5, Fuel type Gasoline, Transmission Gearbox CVT
| | |
| --- | --- |
| | The Nissan Murano is a mid-size crossover SUV first manufactured by Nissan in December 2002 and sold as a 2003 model. Nissan introduced the Murano as its first crossover SUV for the United States and Canada. Designed at Nissan Design America in La Jolla, California, the first generation Murano was based on the Nissan FF-L platform first used by the third generation Altima. The European version of the Murano began sales in 2004 and is available only in one version. |
The Murano was Nissan's only crossover SUV in the U.S. until September 2007 when the new 2008 Nissan Rogue went on sale. In Canada the X-Trail had been on sale as Nissan's second car-based SUV since 2004 as a 2005 model, it was replaced by the new 2008 Nissan Rogue in late 2007. The Murano is sized between the Xterra and the Pathfinder, but is priced slightly higher than the Nissan Pathfinder.

The Murano was nominated for the North American Truck of the Year award for 2003. It was also named the best premium mid-size SUV by AutoPacific.

The name Murano comes from a region of Venice, Italy which is known for the hand blown glass produced there.

The first generation Nissan Murano was powered by a 3.5 litre 245 bhp V6 engine, also used in several other Nissan models like the Altima, Maxima, and Nissan 350Z, but specifically tuned for use in the Murano. Available with standard front-wheel-drive (FWD) and optional all-wheel-drive (AWD), the Nissan Murano is one of the largest vehicles utilising a continuously variable transmission (CVT). Fuel economy was rated at 18 mpg in the city and 23 mpg on the highway (same mpg FWD and AWD on the new EPA specifications).



» Read More About Nissan Murano