id:911614
1999 Nissan Lucino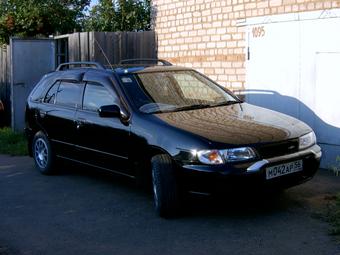 Photo Information (Width: 340px, Height: 255px, Size: 15Kb)
| | |
| --- | --- |
| Engine size - Displacement - Engine capacity: | 1500 cm3 |
| Transmission Gearbox - Number of speeds: | Automatic |
| Fuel Type: | Gasoline |
| Drive wheels - Traction - Drivetrain: | FF |
| Price (out of date): | $8000 |
1999 Nissan Lucino specs, Engine size 1.5, Fuel type Gasoline, Drive wheels FF, Transmission Gearbox Automatic
The SX name refers to several models of automobile sold by Nissan Motor Co., Ltd. around the world. Beginning in 1974, the "200SX" badging was utilized until 2002.

The history of the "200SX" begins in the Nissan Silvia line, which started in 1964 with the CSP311 2-seat coupe (last produced in 1968). When the Silvia was revived in the 1970s as a two-plus-two coupe to compete with the Toyota Celica, it was introduced in some countries as the "200SX". This references the displacement in the engine: 2.0 litres. Other similar Nissan badging also refers to engine displacement, most notably the Datsun 240Z (2.4L) and its successive car line, all the way to the present incarnation — the Nissan 350Z.
S10
The S10 was the first Silvia built on the Nissan S platform. It featured more "traditional" lines than similar offerings from rivals Toyota and Mazda and was summarily less popular with consumers in most markets. In Japan it was fitted with an L18B engine, which it shared with the Datsun 610/ Bluebird 180B. In the North American market a version incorporating the larger-displacement L20B was offered as the 200B of the same series Bluebird. This model was affixed with the mandated 5mph (8.0km/ h) bumpers and badged as the Datsun 200SX. Its success in both markets was limited, most buyers opting for the Celica over what was considered the more mundane S-Chassis.
S110
This iteration of the Silvia, available as a 2-door hardtop coupe and a 3-door hatchback, was uniquely progressive in that it was originally intended to feature a rotary engine, designed and built by Nissan. The resulting unit was fairly unreliable, and forestalled production. Ironically, it shared a chassis code with the also ill-fated Mazda Cosmo, first Japanese production car to feature a rotary engine. The car was redesigned shortly after it was released and the Wankel power plant was replaced by a line of conventional piston engines based on the new Z-series engine. These included the Z20 and the turbocharged and fuel injected Z18ET. The Z22E was later introduced, with a larger displacement and fuel injection.




» Read More About Nissan Lucino