id:2539797
1986 Nissan Laurel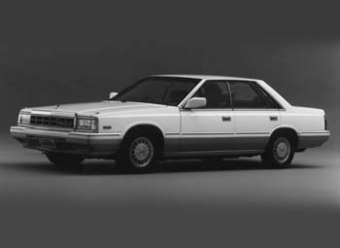 Photo Information (Width: 340px, Height: 248px, Size: 21Kb)
More photos of
Nissan Laurel
Nissan Laurel Problems
Coils and shockups
1999, My car has lost Engine power due to
faulty coils and shock ups are worn out. The
speedom...
Radiator
2002, leaking radiator. Causing the car to over
heat.Need to purchase a new radiator to replac...
Spares required
1995, 1.the vehicle takes too long start in the
morning. 2. when driving it takes time to acc...
1986 Nissan Laurel specs
The Nissan Laurel was introduced by Nissan in 1968 as the new model to slot between the 1968 Bluebird 510 & the Nissan Cedric.

The first Laurel was developed by the Prince Motor Company, consisting of both 2-door and 4-door variants. It was released as a Nissan after Prince merged with Nissan. Laurels for years shared many components and architectures with the Skyline range.
Since 1968, ten generations of Laurel have been produced in Japan. Nissan listed the Laurel for sale in only selected Asian and European markets (it was also sold in Chile, as Datsun Laurel, starting in the late seventies), and then discontinued the export of this model from 1989.

In April, 1968 Nissan presented its new Laurel in four-door deLuxe and Super deLuxe versions, both equipped with a 1.8 L inline-four cylinder engine and independent rear suspension. In summer 1970 a hardtop coupé joined the line-up, one year later a 2000 cc engine became available.


In April, 1972 the second Laurel generation appeared, again in four-door saloon and two-door hardtop coupé form affectionately known as the BUTA KETSU Laurel(PIG'S ASS)because of it's "big" rear quarter panels and tail section. The saloon now was endowed with a rear beam axle and leaf springs, while the coupé clung to IRS. In addition to the 1.8 and 2.0 L four cylinder engines, a 2.0 L inline-six was now available, joined, from October, 1973, by a 2.6 L six; the latter was replaced by a 2.8 L six in late 1975.




» Read More About Nissan Laurel