id:a1237279447b2550174
2006 Nissan Cube
Photo #2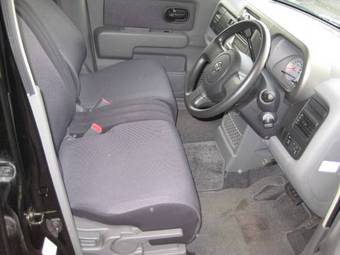 Photo Information (Width: 340px, Height: 255px, Size: 12Kb)
| | |
| --- | --- |
| Engine size - Displacement - Engine capacity: | 1400 cm3 |
| Transmission Gearbox - Number of speeds: | Automatic |
| Fuel Type: | Gasoline |
| Drive wheels - Traction - Drivetrain: | FF |
| Price (out of date): | $9200 |
2006 Nissan Cube specs, Engine size 1.4l., Fuel type Gasoline, Drive wheels FF, Transmission Gearbox Automatic
The Nissan Cube is a mini MPV produced by Nissan and sold only in Japan. It is scheduled to be released in the American and Canadian markets in Spring 2009 and European market in Q4 2009.

The first generation of the Cube (designated Z10) was introduced in 1998. It shared the same platform as the Nissan Micra (known as the March in Japan), as well as the same 1.3L engine. A CVT and four-wheel drive were optional. The Cube covered the gap in the Nissan lineup between the March and the Sunny.

The second generation of the Cube, released in 2002 with a more spacious interior than the previous model. A modern combination of angled and curved surfaces, was based on the third generation of the March, powered by a 1.4L I4 engine. A CVT was optional once again, and was made available in a stretched wheelbase version with seven seats, called the Cube³. For 2005, both models were upgraded with the new HR-series 1.5L engine from the Nissan Tiida, and are now available with the new "e4WD" system, which transfers power to the rear wheels when the front wheels spin.
Electric version
In 2008, Nissan revealed the Nissan Denki (Japanese for "electric") Cube Concept. Making its debut at the March 2008 New York International Auto Show , the Denki Cube Concept is a lithium-ion battery-powered electric vehicle. Nissan's compact lithium-ion battery technology, one of the company's traditional strengths, provides batteries with twice as much energy compared with a conventional cylindrical battery of the same type.



» Read More About Nissan Cube