id:1201465
1999 Mitsubishi Pajero iO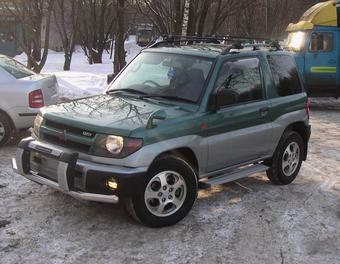 Photo Information (Width: 340px, Height: 264px, Size: 19Kb)
More photos of
Mitsubishi Pajero iO
Mitsubishi Pajero iO Problems
Check engine light
1999, My Pajero io can't accelerate above
35km/hr, engine light is on' diagnostic ma...
Problem in my pajero io
2000, The engine stop when i put it in low
gear, for example when i am in a traffic jam,
but i...
Not starting
2000, i have a Pajero io just cranking when try
to start. i repalce the fuel pump, spark plugs...
| | |
| --- | --- |
| Engine size - Displacement - Engine capacity: | 1800 cm3 |
| Transmission Gearbox - Number of speeds: | Automatic |
| Fuel Type: | Gasoline |
| Drive wheels - Traction - Drivetrain: | 4WD |
| Price (out of date): | $10990 |
1999 Mitsubishi Pajero iO specs, Engine size 1.8, Fuel type Gasoline, Drive wheels 4WD, Transmission Gearbox Automatic
| | |
| --- | --- |
| | The Mitsubishi Pajero iO is a mini SUV produced by Mitsubishi Motors since June 15, 1998 in three-door form, and August 24, 1998 as a five-door. The "iO" name is derived from the Italian for "me" which, according to Mitsubishi, "[g]enerates an image of being easy to get to know, easy to drive, and of being one's very own Pajero". |
Used Mitsubishi Pajero iO
It was exported as the Montero iO, and to Europe as the Pajero Pinin, Shogun Pinin or simply Pinin to honour Pininfarina, which built the local market versions of the car at their factory near Turin, Italy. It has also been produced in Brazil as the Pajero TR4 since 2002 under license. The name was changed after imported versions were referred to as "1.0" instead of "iO", which could lead to confusion about the engine sizes. The Brazilian TR4 has since July 2007 been Mitsubishi's first four-wheel drive flexible-fuel vehicle, running on gasoline, ethanol or a combination of the two.

(sources: Facts & Figures 2000, Facts & Figures 2005, Facts & Figures 2008, Mitsubishi Motors website)



» Read More About Mitsubishi Pajero iO