id:1504495
1996 Mitsubishi FTO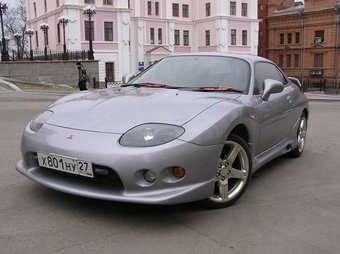 Photo Information (Width: 340px, Height: 254px, Size: 65Kb)
More photos of
Mitsubishi FTO
FTO Troubleshooting
Banda de punto
1994, Punto Correa motor v6 24 valvula 4 levas
como poner en punto su motor 6a12 de Mitsubishi...
Gear box
1994, when pulling away the car does not shift
the gears in the correct order,the gear indicat...
Oil
1996, I bought an FTO from ebay a week ago,
trailered it from london to stratford upon
avon, d...
| | |
| --- | --- |
| Engine size - Displacement - Engine capacity: | 2000 cm3 |
| Transmission Gearbox - Number of speeds: | Manual |
| Fuel Type: | Gasoline |
| Drive wheels - Traction - Drivetrain: | FF |
| Price (out of date): | $10500 |
1996 Mitsubishi FTO specs, Engine size 2.0, Fuel type Gasoline, Drive wheels FF, Transmission Gearbox Manual
| | |
| --- | --- |
| | The Mitsubishi FTO, is a front engined, front-wheel drive coupe produced by Mitsubishi Motors between 1994 and 2000. It was originally planned to be exclusively for the Japanese domestic market, although its popularity as a grey market import to the United Kingdom, Ireland, and New Zealand led to eventual limited distribution through Mitsubishi's official dealers in those countries. Upon its debut it won the Car of the Year Japan award for 1994–95, awarded on December 2, 1994. |
Used Mitsubishi FTO
FTO stands for "Fresh Touring Origination". The name recalls the Galant FTO coupé of 1971, one of the company's first sports cars.
The only body style was a 2-door coupé, and all FTOs were front wheel drive. Either a straight-4 or a transversely mounted V6 engine was available, mated to either a 5-speed manual or INVECS-II semi-automatic transmission. Earlier models had a four-speed version, whilst the post-facelift versions had a five-speed.
October 1994–August 1997
In commemoration of its win at the Car of the Year Japan awards in 1994, Mitsubishi introduced a limited production of the GPX Limited Edition model. It can be indentified by its dandelion yellow paint scheme and "'94–95 Japan Car of the Year" emblems on the outer surface of the car's C-pillar. It also has a rear screen wiper and limited slip differential as standard. Less than 500 of these are believed to have been produced.

The Nakaya-Tune FTO was a limited edition introduced in early 1997, and only 300 cars were sold. The car was tuned by Akihiko Nakaya, driver of an FTO in the All-Japan Grand Touring Car Championship in 1998–1999. The main differences over the standard model are a sports silencer, uprated brake pads, carbon fibre lip spoiler, and uprated suspension with Öhlins shock absorbers.



» Read More About Mitsubishi FTO