id:457125
1994 Mitsubishi Eclipse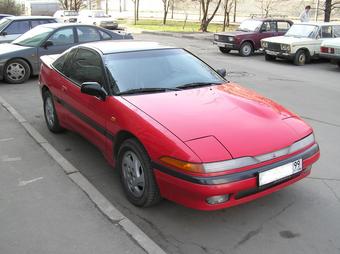 Photo Information (Width: 340px, Height: 254px, Size: 16Kb)
| | |
| --- | --- |
| Engine size - Displacement - Engine capacity: | 2000 cm3 |
| Transmission Gearbox - Number of speeds: | Manual |
| Drive wheels - Traction - Drivetrain: | FF |
| Price (out of date): | $7500 |
The Eclipse is powered by the following engine choices; an SOHC 2.4-liter with 141 hp, a DOHC 2.0-liter with 140 hp, and a turbocharged DOHC 2.0-liter with 220. Choose between a 4-speed automatic or a 5-speed manual transmission. ABS is optional.
1994 Mitsubishi Eclipse specs, Engine size 2000cm3, Drive wheels FF, Transmission Gearbox Manual
| | |
| --- | --- |
| | The Mitsubishi Eclipse is a four-seat sports coupe that has been in production since 1989 for left hand drive markets. It was named after an eighteenth century English racehorse which won 26 races, and has also been sold as the Eagle Talon and the Plymouth Laser captive imports through Mitsubishi Motors' close relationship with the Chrysler Corporation. Their partnership was known as Diamond-Star Motors, or DSM. |
As of 2009, the Eclipse is officially available in the United States, Canada, Mexico, Saudi Arabia, Kuwait, UAE, China, South Korea, the Philippines, and Brazil.
The Eclipse has undergone four distinct generations: the first two generations (1G and 2G) are closely related and share many parts, whereas the third generation (3G) is based on a new platform and most parts are incompatible with 1G and 2G Eclipses. The fourth generation (4G) Eclipse was made available in May 2005.
Timeline
1990–1994 (1G) Mitsubishi Eclipse, Eagle Talon, and Plymouth Laser
Overview
The first generation Mitsubishi Eclipse was sold as an entry to mid-level four-cylinder sports coupe. Four trim levels were available: the bottom three were front wheel drive and the very top was all wheel drive. The top FWD and the AWD model were equipped with turbocharged engines.

The car underwent minor changes throughout its production; 1992–1994 models (1Gb) have updated sheetmetal and are easily distinguishable from previous vehicles (1Ga). The most notable of these changes is that the 1Ga models have pop-up headlights. The Eclipse was revised into a new vehicle for 1995 (described below in the 2G section).



» Read More About Mitsubishi Eclipse