id:2857145
1990 Mitsubishi Fuso Canter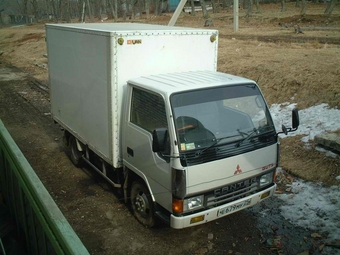 Photo Information (Width: 340px, Height: 255px, Size: 72Kb)
1990 Mitsubishi Fuso Canter specs
| | |
| --- | --- |
| | The Mitsubishi Fuso Canter (kana:三菱ふそう・キャンター) is a line of light-duty commercial vehicle by Mitsubishi Fuso Truck and Bus Corporation. The range was primarily available in Japan and some other Asian countries, although it was also sold in the United States during the late 1980s and up current. Manufacturing began in 1962 with the first cars going to Asia. Other European and American countries which saw import or manufactures of the Canter included the Europe, Mid-east and North America. The Asia-Pacific was another market until the early 1970s. In many markets the Canter was very expensive and was replaced by the Mitsubishi Fuso Truck when that model became available for worldwide market in the early 1980s. |
Used Mitsubishi Fuso Canter
Australia was another important market for the Canter - to the extent that it was manufactured there from the 1970s using many local components.
Most models of the truck are distinguishable by a front 'Canter' badge, but the common Mitsubishi badge is usually used on the rear.
In the United States, its principal competitors are Bering MS, Chevrolet W-Series, GMC W-Series, Isuzu NPR/ NQR and the UD 1200/ 1300/ 1400. and Japan competitors are Isuzu Elf, UD Atlas, Toyota Dyna, Hino Dutro.
In late 2005, a new Canter was presented, with safety being the main issue. Also a new hybrid truck, the Canter Eco Hybrid was presented commercially. It is currently only sold in Japan.
Japan
FB Canter Guts
FD Canter Guts 4WD
FE
FF Tri-axles
FG Double cab 4WD
US & Canada
Canter FE Light Duty

FE-HD
FE-SP
FE-SP640
FE84
FE120
FE140
FE145
FE145CC
FE180
FE335B
FE434
FE439
FE444
FE635
FE639
FE639L
FE639T
FE640T
FE649L
FE649T
FE1600

Canter FG Light Duty 4WD
Canter FH Medium Duty


» Read More About Mitsubishi Fuso Canter