id:a1190052041b1376041
2001 Mercedes-Benz Vito
Photo #1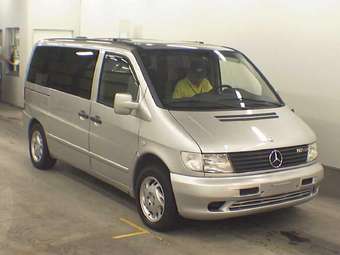 Photo Information (Width: 340px, Height: 255px, Size: 10Kb)
More photos of
Mercedes-Benz Vito
Mercedes-Benz Vito Problems
Mercedes benz v230
2001, La kaja del cambio automatica no cambiar
e no fonctiona ela ksiratour no marcha............
Problems
2001, Hi,i have a vito 2001,2151cc diesal..Im
currently in limp mode and cant turn it
off.Also...
Quick water exhaustion
2007, The water finish very early, the
handbreak does not work, colorless but smelling
fumes. ...
2001 Mercedes-Benz Vito specs
The Mercedes-Benz Vito is a light van produced by Mercedes-Benz in Mexico and Spain.

It is available as a standard panel van, or with additional passenger accommodation substituted for part or all of the load area.
Used Mercedes-Benz Vito
The first generation Mercedes-Benz Vito was produced between 1996 and 2003. It is powered either by a diesel engine with up to 120bhp (89kW; 122PS) or a petrol engine with up to 140bhp (104kW; 142PS) and a front-wheel drive drivetrain.

The second generation Mercedes-Benz Vito is more streamlined than its predecessor, but more importantly is powered by a new range of engines and a rear-wheel drive (RWD) drivetrain.

The angle of the windshield and A-pillar is closer to horizontal; the dashboard is bigger and the hood smaller. The newer Vito is available in 3 different lengths and 4 diesel engine versions being the 109 cdi, the 111 cdi, the 115 cdi and the powerful 120 cdi. The model numerics conform with the Mercedes pattern that relates to a rough guide to engine power output. In the Vito range currently the 109 has 93 bhp, 111 relates to 116 bhp, 115 to 150bhp (112kW; 152PS) and 120 to 204bhp (152kW; 207PS).

The 2nd generation Vitos are all Euro 3 compliant (additionally Euro 4 compliant as of November 2006) and therefore exempt from the upcoming Low Emission Zone in London. This requires commercial vehicles (vans) to reach at least Euro 3 standard from October 2010.



» Read More About Mercedes-Benz Vito