id:2827942
1994 Mazda Proceed Marvie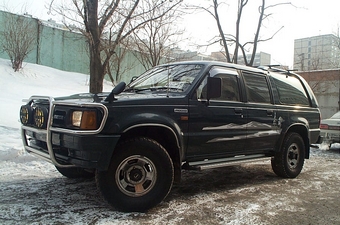 Photo Information (Width: 340px, Height: 225px, Size: 73Kb)
More photos of
Mazda Proceed Marvie
Mazda Proceed Marvie Problems
Over heating
1997, 1.The car is overheating. The radiator
is OK, the coolant is there, the hoses are OK a...
Clutch
1994, need to know wher to put fluid for
steerung and if you can use power steering
fluid inst...
Mazda proceed G6 camshaft timing.
1992, I need to know how to align cam sprocket
timing mark when engine is at T D C VEHICLE has...
1994 Mazda Proceed Marvie specs
See Mazda B-Series (North America) for that market's version

The Mazda B-series is a 2-door pick-up truck, first manufactured in 1961 by Mazda Motor Corporation. The current model, which was first manufactured in 1999, is the mark 7. The mark 7 can be manufactured with 1 of four body styles and 1 of two engines.
From the first B-Series pickup truck, Mazda has used the engine displacement to determine the name. Thus, the B1500 had a 1.5L engine, and the new B4000 has a 4.0L V6. In Japan, Mazda used the Proceed name on its compact pickup trucks, and another line of larger trucks is available called the Mazda Titan. Other names used for this line include Mazda Bravo (Australia), Mazda Bounty (New Zealand), Mazda Magnum / Thunder / Fighter (Thailand), and Mazda Drifter (South Africa).

Mazda's partnership with Ford has resulted in the sharing of this vehicle—the Mazda B-Series and Ford Ranger are essentially the same. In Australia and New Zealand, since the 1970s, the Ford Courier name is also used and the line continues today.

However, it should be borne in mind that the Mazda B-Series and Ford Ranger twins found inside North America are unrelated to the ones sold elsewhere. These are engineered by Mazda, whereas the North American models are developed by Ford. See Mazda B-Series for more information on the variations on the B-Series line.



» Read More About Mazda Proceed Marvie