id:323509
1994 Mazda MX-6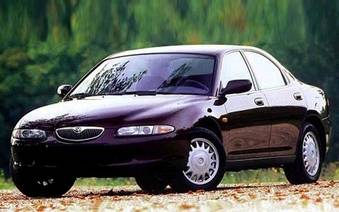 Photo Information (Width: 339px, Height: 212px, Size: 15Kb)
| | |
| --- | --- |
| Engine size - Displacement - Engine capacity: | 2000 cm3 |
| Transmission Gearbox - Number of speeds: | Manual |
| Fuel Type: | Gasoline |
| Price (out of date): | $7000 |
Mazda''s midsized, 4 cylinder sport coupe. Although Mazda is a Japanese owned company, it produces the MX-6 in the United States at the Flat Rock, Michigan plant. The Ford Probe is built on the same platform as the MX-6, and is very similar in many aspects.
1994 Mazda MX-6 specs, Engine size 2.0, Fuel type Gasoline, Transmission Gearbox Manual
The Mazda MX-6 was a front-wheel drive sporty coupé produced by Mazda between 1987 and 1997. It was called the Mazda Capella in Japan until 2002 before being renamed Mazda Atenza/ Mazda6.

The MX-6 was mechanically identical to the Mazda 626 and subsequently the Ford Probe. These cars shared the GD (1988-1992) and GE (1993-1997) platforms. The MX-6 replaced the 626 Coupé, although it continued to share the same chassis. Mazda shared the GD and GE chassis with Ford for their own Probe. The MX-6, 626 and Ford Probe were made together in joint-venture plants either by AutoAlliance in Flat Rock, MI for the North American market, and by Mazda Japan for Asian and European Markets.
The first generation MX-6 appeared in 1988 and lasted until 1992 in the United States. In some markets the model years were from 1987 to 1991. It was based on a series of futuristic sports compact concept cars of the early 1980s. It was a large coupé, based on the Mazda GD platform, and was powered by the I4 Mazda F engines.

The US market made use of the F2 2.2L engine, with the base engine produced 110hp (82kW), but a 145hp (108kW) turbocharged version was available. European and Japanese market versions were shipped with either the F8 1.8L, FE 2.0L or FE-DOHC 2.0L DOHC engines.

The MX-6 was produced with two transmission options, a 5-speed manual transmission or a 4-speed automatic with overdrive. The MX-6 was also known to be a very reliable car, mechanically.

This generation was available in several trim levels, which differ depending on the market the vehicle was sold in. In the United States, the MX-6 was available in DX, LX, LE, and GT trim levels:



» Read More About Mazda MX-6