id:a1244181002b2743981
Mazda MPV Specs The MPV is powered by a 3.0-liter, 155 hp V-6 with a 4-speed automatic. Rear wheel ABS is standard. And it's available in 2 or 4 wheel drive models.
2001 Mazda MPV
Photo #2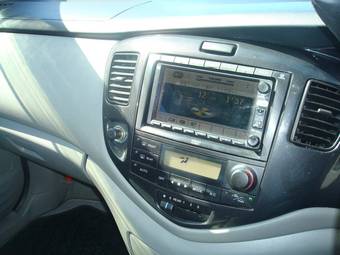 Photo Information (Width: 340px, Height: 255px, Size: 14Kb)
More photos of
Mazda MPV
MPV Troubleshooting
Perte de puissance
2001, mon moteur arrive a démarrer
difficilement et surtout a une baise
énorme d...
Door window
2001, The front passenger door window shattered
and need a replacement the window glass need...
Cruise control
1997, cruise control won't stay locked on
correct speed tends to speed up...
| | |
| --- | --- |
| Engine size - Displacement - Engine capacity: | 2500 cm3 |
| Transmission Gearbox - Number of speeds: | Automatic |
| Fuel Type: | Gasoline |
| Price (out of date): | $12953 |
2001 Mazda MPV specs, Engine size 2.5l., Fuel type Gasoline, Transmission Gearbox Automatic
| | |
| --- | --- |
| | The Mazda MPV (Multi-Purpose Vehicle) is a minivan manufactured by Mazda. Introduced in 1989 as a rear wheel drive model, it was replaced in 2000 with a front wheel drive version. Over 1 million MPV models had been produced since its introduction. |
Used Mazda MPV
The minivan boom of the 1980s caught the Japanese car makers by surprise. Each maker had its own response: Toyota was first with an adaptation of their mid-engined Van, based on the Japanese Town-Ace in 1984. Nissan and Mitsubishi quickly followed suit with conversions of cargo vans in 1987. All were small and only offered 4-cylinder engines.

The 1989 MPV was designed from the ground-up as a minivan for the American market. It was based on the large rear wheel drive 929's HC. It would be called the LV platform, and equipped the MPV with a V6 engine and optional four wheel drive. Its 4WD system is not to be confused with "all wheel drive"; the MPV can be switched into 4WD with a switch mounted on the column gear selector. A dash mounted switch also allowed the driver to lock the center differential, splitting power equally between the front and rear axles. The 4WD can be engaged and disengaged while moving.

Like the later Honda Odyssey, it featured traditional hinged doors instead of sliding rear doors, though the original MPV only had a single rear door. Because of the 4WD option, the Mazda Navajo (sold from 1991-1994) version of the Ford Explorer was only offered as a 2 door. The middle row was available as a bench, allowing seating for 8 when most minivans seated 7.



» Read More About Mazda MPV