id:456165
1991 Mazda Eunos Roadster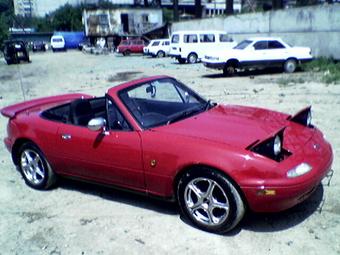 Photo Information (Width: 340px, Height: 255px, Size: 20Kb)
More photos of
Mazda Eunos Roadster
Eunos Roadster Troubleshooting
Over heating
1991, Proble is overheating. We have tried with
local garages but the problem is not going awa...
Original motor manual
1989, I.D reg DVLA Insurance as original as
possible. copy of original second best. To add
a ...
Left hand side window broken
1991, The left hand side of the vehgicle broke
and I cannot find a replacement. This is a sotf...
| | |
| --- | --- |
| Engine size - Displacement - Engine capacity: | 1600 cm3 |
| Transmission Gearbox - Number of speeds: | Manual |
| Fuel Type: | Gasoline |
| Price (out of date): | $6500 |
1991 Mazda Eunos Roadster specs, Engine size 1600cm3, Fuel type Gasoline, Transmission Gearbox Manual
| | |
| --- | --- |
| | The Mazda MX-5, also known as Miata (pronounced / miːˈɑːɾə/ ) in North America and Roadster (pronounced [ɺ̠oːdosɯtaː]) in Japan, is a two-seater roadster sports car built by Mazda in Hiroshima, Japan – introduced in 1989 and now in its third generation. |
According to a 2003 Edmunds.com article, "the Miata deserves credit not only for reviving a dormant passion for roadsters, but for emboldening other manufacturers."

Now in its third generation, the MX5's first generation, the NA, sold over 400,000 units from 1989 to 1997 – with a 1.6L (98cuin) straight-4 engine to 1993, a 1.8L (110cuin) engine thereafter (with a de-tuned 1.6 as a budget option in some markets) – recognizable by its pop-up headlights. The second generation (NB) was introduced in 1998 with a slight increase in engine power; it can be recognized by the fixed headlights, and the glass rear window. The third generation (NC) was introduced in 2005 with a 2.0L (120cuin) engine.

The MX-5 was conceived as an elemental small roadster – with light weight and minimal mechanical complexity limited only by legal and safety requirements; technologically modern, but a philosophically direct descendant of the small British roadsters of the 1960s such as the Triumph Spitfire, Austin-Healey Sprite, MG Midget and Lotus Elan.



» Read More About Mazda Eunos Roadster