id:2790741
1992 Mazda Efini MS-8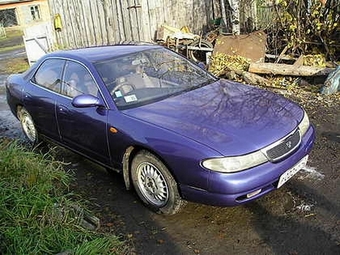 Photo Information (Width: 340px, Height: 255px, Size: 87Kb)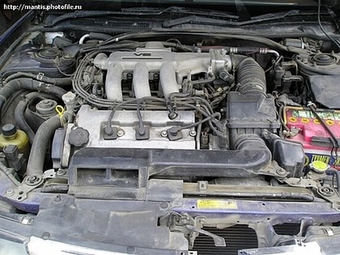 Photo Information (Width: 340px, Height: 255px, Size: 82Kb)
1992 Mazda Efini MS-8 specs
The Efini MS-8 was a luxury car produced by Mazda and sold through the Efini marque from March 1992 through 1995. The car is a replacement to the Mazda Persona and Eunos 300 on the Mazda M platform.

Just like the Persona is based on the 1987-1991 Mazda Capella, the MS-8 is based on the 1991-1997 Mazda Cronos. The MS-8 is a hardtop-style, stylish sedan in the vein of the Toyota Carina ED. Unlike the ED or the Persona, however, the MS-8's body has a B-pillar that is much thicker below the beltline than it is above. Doing so allows the bodyshell more rigidity while still maintaining an airy cabin. Such a B-pillar means that the front seatbelts must be installed below the belt line. It appears through the lining of the rear door, and is routed through a guide built into the front headrests.
The MS-8's interior design has several unique features. The car is only fitted with a 4-automatic gearbox, and the gear shifter is mounted on the dashboard next to the air-conditioning controls. Doing so eliminates the floor console between the front seats, and allows for a front bench seat. The display for climate control and factory-equipped audio is located atop the dashboard, in a thin slit right before the windshield defroster. The sunroof is very large for its day, extending all the way above the rear seat footwell.
Following the 1991 Efini RX-7, the MS-8 is also available with the Bose Acoustic Wave Guide audio system, a compact subwoofer design.
Four-wheel steering is an extra-cost option. Like the system on the Mazda Sentia, it is designed to minimize turn radius at town speeds, and improve stability at highway speed.
Production for the MS-8 ceased when Mazda's multi-brand strategy failed in Japan, and the company suffered financial difficulties.
Engines:
2.0L KF-ZE V6
2.5L KL-ZE V6


» Read More About Mazda Efini MS-8