id:1084057
1998 Mazda Capella Wagon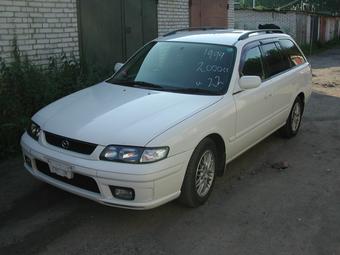 Photo Information (Width: 340px, Height: 255px, Size: 13Kb)
More photos of
Mazda Capella Wagon
Mazda Capella Wagon Problems
Turn Signal
1998, The turn signal and hazard sometimes work
and sometimes do not function. Couldn'...
Mazda Capella Wagon
1997, clogged rear window washer! h0w to
access jet fitting? It is embedded in the
&qu...
Fuel pump
1999, The car will not fire up and i cannot
smell fuel, is this a fuel pump problem and
where ...
1998 Mazda Capella Wagon specs
| | |
| --- | --- |
| | Capella is the Japanese domestic market name for Mazda's midsize family car; larger than the Familia/ 323 but smaller than the Luce/ 929. The vehicle has also been sold as the Mazda 616, 626, Montrose, and Ford Telstar, and is closely related to the short-lived Mazda Lantis, Cronos, Persona, Autozam Clef, Eunos 500/ Xedos 6 and Mazda MX-6/ Ford Probe. Production of the Capella lasted from 1970 until it was replaced by the Mazda Atenza in 2002. |
Used Mazda Capella Wagon
Plain 4 cylinder engines ranged from 1490 cc to 1586 cc and 1769 cc. See also this link.
The first Capella was introduced in 1970 and lasted until 1974. It was powered by a 4 cylinder SOHC valve engine displacing 1.6L (1586cc). Bore was 78mm and stroke was 83mm. Output was 104hp (77kW) and 106ft·lbf (144Nm).
This generation was sold in export markets as the Mazda 616 in coupe and sedan configurations.
An optional Mazda Wankel engine and other tweaks transformed it into the Mazda RX-2.
616/ 618 (USA)
The 616 was a major component of Mazda's United States expansion in 1971, having been preceded by its rotary brother, the RX-2, the previous year. It featured the 1.6L (1586cc) engine, which was also used in the 1200 that year. The American Capella was updated and renamed the next year. The 1972 618 had a larger 1.8L (1796cc) engine. Lasting just one year, the 618 nameplate was not used again in the United States and the only Capella for 1973 was the RX-2.




» Read More About Mazda Capella Wagon