id:a1328016616b6577393
2011 Mazda BT-50
Photo #8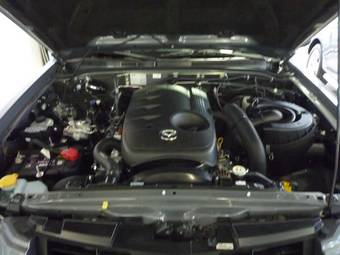 Photo Information (Width: 340px, Height: 255px, Size: 14Kb)
More photos of
Mazda BT-50
Mazda BT-50 Problems
Fog Lights required
2007, Looking for parts: 1. Fog lights for
Mazda BT-50 Anyone in namibia Selling Mazda
BT-...
| | |
| --- | --- |
| Engine size - Displacement - Engine capacity: | 2500 cm3 |
| Transmission Gearbox - Number of speeds: | Manual |
| Fuel Type: | Diesel |
| Drive wheels - Traction - Drivetrain: | 4WD |
| Price (out of date): | $31918 |
2011 Mazda BT-50 specs, Engine size 2500cm3, Fuel type Diesel, Drive wheels 4WD, Transmission Gearbox Manual
Mazda Motor Corporation (マツダ株式会社, Matsuda Kabushiki-gaisha?) (TYO: 7261) is a Japanese automotive manufacturer based in Hiroshima, Japan.

During 2007, Mazda produced almost 1.3 million vehicles for global sales. The majority of these (nearly 1 million) were produced in the company's Japanese plants, with the remainder coming from a variety of other plants worldwide.

It is said that Mazda coincides with the anglicized pronunciation of the founder's name, Jujiro Matsuda, who was interested in spirituality, and chose to rename the firm in honor of both his family and Zoroastrianism. The word Mazda derives from Ahura Mazda, the Avestan language name for a divinity exalted by the ancient Iranian prophet Zoroaster, as the source of wisdom, intelligence and harmony.
In Japanese, the company's name has always been pronounced and spelled as "Matsuda", the name of the founder. Television ads for Mazda automobiles in the United States use a pronunciation where the initial vowel sound is the 'a' in "father", while Canadian Mazda advertisements pronounce the company's name with the initial "a" sound of the word "has". The initial vowel sounds (in the American and Canadian advertisements) are references to the first and last A sounds in the original Persian pronunciation.

Mazda began as the Toyo Cork Kogyo Co., Ltd, founded in Japan in 1920. Toyo Cork Kogyo renamed itself to Toyo Kogyo Co., Ltd. in 1927. Toyo Kogyo moved from manufacturing machine tools to vehicles, with the introduction of the Mazda-Go in 1931. Toyo Kogyo produced weapons for the Japanese military throughout the Second World War, most notably the series 30 through 35 Type 99 rifle. The company formally adopted the Mazda name in 1984, though every automobile sold from the beginning bore that name. The Mazda R360 was introduced in 1960, followed by the Mazda Carol in 1962.



» Read More About Mazda