id:a1237731616b2563375
1988 Lincoln Town Car
Photo #1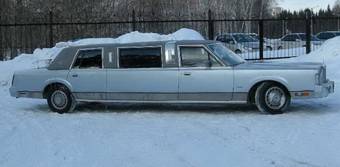 Photo Information (Width: 340px, Height: 167px, Size: 9Kb)
| | |
| --- | --- |
| Engine size - Displacement - Engine capacity: | 5000 cm3 |
| Transmission Gearbox - Number of speeds: | Automatic |
| Fuel Type: | Gasoline |
| Drive wheels - Traction - Drivetrain: | FR or RR |
| Price (out of date): | $13465 |
The Town Car is powered by a 4.6-liter, 200-hp V-8(with option of a 220 hp version) and a 4-speed automatic. ABS is standard.
1988 Lincoln Town Car specs, Engine size 5.0, Fuel type Gasoline, Drive wheels FR or RR, Transmission Gearbox Automatic
The Lincoln Town Car is a full-size, rear-wheel drive luxury sedan sold by Ford's upscale Lincoln brand. The Town Car features a V8 engine and large exterior and interior dimensions.

The Town Car is, despite recently declining sales numbers, one of the best selling American luxury cars. It also serves as America's most used limousine and chauffeured car. While relatively affordable when compared to European flagship luxury sedans, the Town Car is currently the most expensive American luxury sedan (according to base MSRP) with prices ranging from $45,815 for a basic Signature Series to $54,140 for a top-of-the-line Signature L Series. The Town Car has been available featuring ballistic protection since 2003 with prices starting at $144,995.
In 2006, Ford considered ending production of Lincoln's largest model after the planned closing of the Wixom Assembly Plant in Wixom, Michigan in 2007 causing near panic, of a transportation nature, on Wall Street. Ford ultimately decided to keep the model and move assembly to the St. Thomas Assembly Plant in Ontario, Canada where the Ford Crown Victoria and Mercury Grand Marquis, which also use the Ford Panther platform, are currently built. The Town Car's manufacture resumed at its new location in late 2007. The first Canadian-built Town Car rolled off the assembly line on January 10, 2008. The Town Car is currently the largest Canadian-made car, measuring nearly 18 feet (5.49 m) in length for a standard Town Car and 18+1⁄2 ft (5.64 m) for an L Edition.

Consumer Guide cites the vehicle's strengths as comfort, materials, and ride quality, with weaknesses cited as acceleration and handling. The Town Car is one of the safest cars available on the North American market.

It is probably not a coincidence that "Town Car" is English for "Sedan de Ville," Cadillac's model that was gaining popularity in the 1950s. Both names refer to a classic style of limousine, popular in the 1920s, which had an open chauffeur's compartment up front, but only Lincoln has sometimes attempted to make its modern models visually suggest their older namesakes. Many examples from the 1970s and 1980s have a vinyl roof style which sweeps down the center pillar as part of a raised molding, complete with opera lamps, which suggests a partition between front and rear seats, while no vinyl is applied to the front section of the roof over the driver.



» Read More About Lincoln Town Car