The LS series is powered by a 3.0-liter, 200-hp DOHC V-6(for the LS6) or a 3.9-liter, 220-hp DOHC V-8(for the LS8).Available with a 5-speed automatic or a 5-speed manual transmission. ABS is standard.
2001 Lincoln LS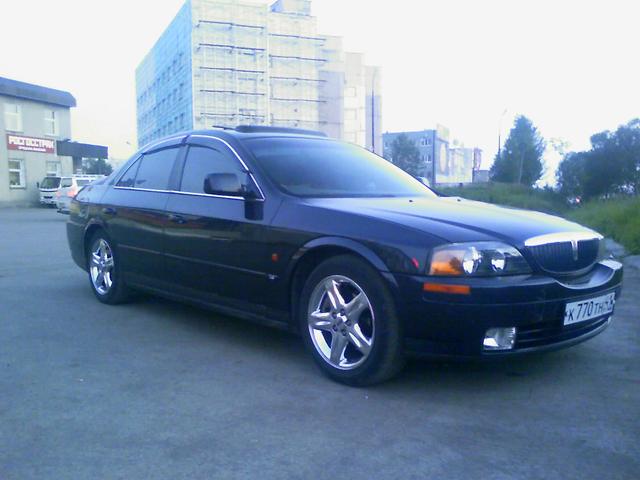 Photo Information (Width: 640px, Height: 480px, Size: 47Kb)
More photos of
Lincoln LS
LS Troubleshooting
Electrical
2001, I WAS PLUGGIN SOME SPEAKERS AND I TRIED
TO TURN OFF THE CAR BUT IT STAYED ON WITH THE
KE...
| | |
| --- | --- |
| Transmission Gearbox - Number of speeds: | Automatic |
| Fuel Type: | Gasoline |
| Drive wheels - Traction - Drivetrain: | FR or RR |
| Price (out of date): | $18000 |
2001 Lincoln LS specs, Fuel type Gasoline, Drive wheels FR or RR, Transmission Gearbox Automatic
Lincoln is a brand of Ford Motor Company. Founded in 1917 by Henry M. Leland and acquired by Ford in 1922, Lincoln has manufactured vehicles since the 1920s. Leland named the brand after his longtime hero Abraham Lincoln.

The company was founded in August 1917 by Henry M. Leland, one of the founders of Cadillac (originally the Henry Ford Company). He left the Cadillac division of General Motors during World War I and formed the Lincoln Motor Company to build Liberty aircraft engines with his son Wilfred. After the war, the company's factories were retooled to manufacture luxury automobiles.
The company encountered severe financial troubles during the transition, coupled with body styling that wasn't comparable to other luxury makers, and after having produced only 150 cars in 1922, was forced into bankruptcy and sold for USD $8,000,000 to the Ford Motor Company on February 4 1922, which went to pay off some of the creditors. The purchase of Lincoln was a personal triumph for Henry Ford, who had been forced out of his second (after Detroit Automobile Company) company by a group of investors led by Leland. Ford's company, renamed Cadillac in 1902 and purchased by rival General Motors in 1909, was Lincoln's chief competitor. Lincoln quickly became one of America's top selling luxury brands alongside Cadillac and Packard. Ford made no immediate change, either in the chassis or the V-8 L-head engine which was rated 36.4 SAE and produced 90bhp (67kW; 91PS) at 2,800 rpm. An unusual feature of this power unit was the 60 degree separation of the cylinder blocks that helped to cut down on synchronous vibration found with similar engines with 90 degree separation produced at the time. After the Ford takeover, bodywork changes and reduced prices increased sales to 5,512 vehicles from March to December of 1922.



» Read More About Lincoln