id:a1243776338b2732540
1999 Lexus SC300
Photo #1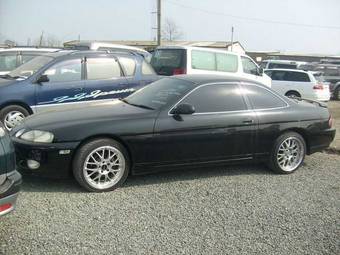 Photo Information (Width: 340px, Height: 255px, Size: 17Kb)
| | |
| --- | --- |
| Engine size - Displacement - Engine capacity: | 3000 cm3 |
| Fuel Type: | Gasoline |
| Price (out of date): | $11500 |
1999 Lexus SC300 specs, Engine size 3000cm3, Fuel type Gasoline
Lexus (Japanese: レクサス,, Rekusasu?) is the luxury vehicle division of Japanese automaker Toyota Motor Corporation. First introduced in the United States, where Lexus has become the highest-selling make of luxury car, today Lexus brand name vehicles are available throughout the world. In 2005, the Lexus marque launched in Japan, marking the continued global expansion of the luxury division.

Lexus originated from a clandestine flagship sedan project that began in 1983. This effort developed into the original Lexus LS, which was the first vehicle to wear the Lexus marque upon its launch in 1989. In subsequent years, Lexus added sedan, coupe, and SUV models. Hybrid drivetrains arrived in 2005, and the F marque performance division debuted in 2007. From the start of production, Lexus vehicles have been consistently produced in Japan, with manufacturing centered in the Chūbu and Kyūshū regions. Assembly of the first Lexus built outside the country, the Ontario, Canada-produced RX, began in 2003.
Since 1989, Lexus has developed a reputation for vehicle reliability and customer service, as measured by independent surveys. In 2008, consumer ratings firm J.D. Power and Associates named Lexus the most reliable brand in the U.S. for the fourteenth year, based on its Vehicle Dependability Survey, a measure of over 53,000 vehicle owners and problems experienced in the first three years of vehicle ownership. Through 2008, Consumer Reports has also named Lexus among the top five most reliable brands in its Annual Car Reliability Surveys of over one million vehicles across the U.S.
The Lexus slogan is The Pursuit of Perfection.
The F1 project
In 1983, Toyota chairman Eiji Toyoda summoned a secret meeting of company executives, to whom he posed the question, "Can we create a luxury vehicle to challenge the world's best?" This question prompted Toyota to embark on a top-secret project, code-named F1 ("Flagship" + "No. 1 vehicle"). The F1 project, whose finished product was ultimately the Lexus LS 400, aimed to develop a luxury car that would expand Toyota's product line, giving it a foothold in the premium segment and offering both longtime and new customers an upmarket product. The F1 project followed the success of the Toyota Supra sports car and the luxury Toyota Cressida models. Both the Supra and Cressida were rear-wheel drive cars with a powerful 7M-GE/ 7M-GTE engine. The U.S. launch of the Acura marque by Honda three years prior also influenced Toyota in its plans for a luxury division. Around this same time, Nissan would unveil plans to create its own luxury division, Infiniti, while Mazda also considered developing a luxury division, to be called Amati.



» Read More About Lexus