id:a1245940810b2792051
2006 Land Rover Range Rover
Photo #2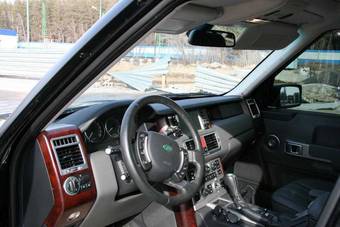 Photo Information (Width: 340px, Height: 227px, Size: 16Kb)
| | |
| --- | --- |
| Engine size - Displacement - Engine capacity: | 4200 cm3 |
| Transmission Gearbox - Number of speeds: | Automatic |
| Fuel Type: | Gasoline |
| Drive wheels - Traction - Drivetrain: | 4WD |
| Price (out of date): | $52826 |
The Range Rover is 4 wheel drive with an option of a 4.0-liter pushrod 16-valve V-8 with 188 hp; 4.6-liter pushrod 16-valve V-8 with 222 hp or 240 hp(Callaway model) partnered with a 4-speed automatic transmission.
2006 Land Rover Range Rover specs, Engine size 4200cm3, Fuel type Gasoline, Drive wheels 4WD, Transmission Gearbox Automatic
See also: Range Rover Classic, Tacr2,and Range Rover Sport

The Range Rover is a four-wheel drive luxury sport utility vehicle (SUV) produced by Land Rover in the United Kingdom, owned by the India-based Tata Motors. It was first introduced in 1970 and is still in production today. There have so far been three major generations. The original model was known simply as the Range Rover until almost the end of its life, when Land Rover introduced the name Range Rover Classic to distinguish it from its successors.
Used Land Rover Range Rover
The second generation had the internal Land Rover code name "P38A", and the latest generation is internally designated "L322". This article deals primarily with these latter two generations.

The original Range Rover of 1970 was not designed as a luxury 4x4, in contrast to the way that other utility vehicles such as the Jeep Wagoneer of the United States were. While certainly up-market compared to preceding Land Rover models, early Range Rovers had fairly basic, utilitarian interiors with vinyl seats and plastic dashboards that were designed to be washed down with a hose. Features such as power assisted steering, carpeted floors, air conditioning, cloth/ leather seats and wooden interior trim were only fitted later, when it was realised that it had a far larger market as a luxury vehicle than merely as a more comfortable alternative to the Land Rover Station Wagon. The Range Rover introduced advanced features such as all-coil spring suspension and disc brakes, whereas its competitors retained leaf springs and drum brakes for years thereafter (although some American SUVs featured automatic transmissions and power steering, which the original Range Rover lacked).



» Read More About Land Rover Range Rover