id:a1252363202b3010103
Land Rover introduces the all new Freelander to the small sport-utility market. All models are equipped with a 2.5L V6 engine producing 175 horsepower, and five-speed automatic transmission with a manual sport shift mode for faster acceleration.
2001 LAND Rover Freelander
Photo #2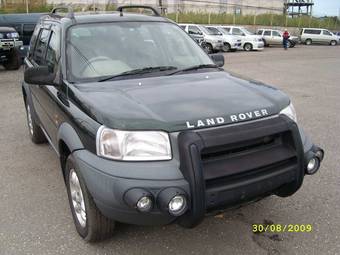 Photo Information (Width: 340px, Height: 255px, Size: 15Kb)
| | |
| --- | --- |
| Engine size - Displacement - Engine capacity: | 2500 cm3 |
| Transmission Gearbox - Number of speeds: | Automatic |
| Fuel Type: | Gasoline |
| Price (out of date): | $11931 |
2001 LAND Rover Freelander specs, Engine size 2.5l., Fuel type Gasoline, Transmission Gearbox Automatic
The Land Rover Freelander is a compact SUV made by the British company Land Rover; currently a subsidiary of Tata Motors.

The Freelander, wholly designed by the Rover Group, was born after market research in the late 1980s suggested that a market for compact off-roaders was likely to develop. In the early 1990s Rover Group had a very restricted product development budget and looked for a partner to develop the Freelander project, which was codenamed CB40 (after Canley Building 40, where the concept was initially developed). Rover's formal partner Honda also declined (although the very similar Honda CR-V appeared in 1997).[citation needed]
Used LAND Rover Freelander
Rover decided to go it alone with the CB40, which meant using parts from a limited parts bin, as it had done with the MGF roadster. Although BMW took over Rover Group in 1994, they did not get heavily involved in the development of the Freelander. The car was launched in 1997. The car became Europe's best-selling four-wheel drive model and remaining so until 2002.[citation needed] The last Freelanders in North America were sold as 2005 models.
Model variations
There were a variety of models, based around 5-door estate and 3-door softback (semi-convertible), hardback, and commercial (van-like) versions. In 2004, Land Rover introduced an improved and upgraded version of the Mark I; changes included a new interior and major external revisions, including a new face and rear.

The 3-door model was available in E, S, SE, Sport and Sport Premium trim and the 5-door model in available in E, S, SE, HSE, Sport and Sport Premium trim.

Engine choices include:



» Read More About LAND Rover Freelander