id:a1241131211b2658238
The G20 is offered as a four-door sedan with a 2.0-liter, 140-hp DOHC inline-four mated with your choice of a 5-speed manual or 4-speed automatic. ABS is standard.
1999 Infiniti G20
Photo #1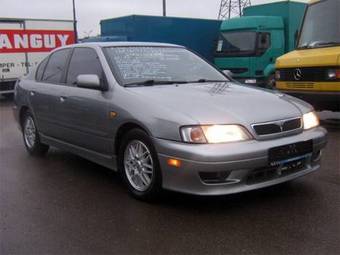 Photo Information (Width: 340px, Height: 255px, Size: 12Kb)
More photos of
Infiniti G20
G20 Troubleshooting
Motor problems
1999, the motor shakes allot and its very hard
for the car to accelerate. or start. we changed...
Blower motor doesn't turn on
2000, automatic climate control works but
blower will not turn on...
Replaceing the belt
1999, whats involved in changeing the altanator
belt on my 99 g20 infiniti i mean will i half ...
| | |
| --- | --- |
| Engine size - Displacement - Engine capacity: | 2000 cm3 |
| Transmission Gearbox - Number of speeds: | Automatic |
| Drive wheels - Traction - Drivetrain: | FF |
| Price (out of date): | $11750 |
1999 Infiniti G20 specs, Engine size 2.0, Drive wheels FF, Transmission Gearbox Automatic
| | |
| --- | --- |
| | The Infiniti G is an entry-level luxury car/ mid-size car and coupe produced by Nissan's Infiniti division. The first two generations of the Infiniti G (P10 and P11) were based on the Nissan Primera, while the generation (V35) of the Infiniti G were based on the sportier Nissan Skyline platform. In its latest version (V36) the Nissan FM platform used for the 2nd gen G cars has shared components with the Infiniti M and also underpins the 350Z and the Infiniti FX models. |
The Infiniti G20 was Infiniti's entry-level luxury car in the United States during most of the 1990s and into the 2000s. Similar to the Japanese/ European market Nissan Primera sedan, the G20 offered higher levels of standard equipment. It was launched in 1991 to compete with the Acura Integra, BMW 3-Series, Lexus ES 250 and Volvo 200 series; later advertisements emphasized its European heritage with the tag line "Born in Japan. Educated in Europe. Now Available in America." Two generations of the G20 exist in the United States, the HP10 (P10), built from 1991 to 1996, and the HP11 (P11), built from 1999 to 2002. All G20s were front-wheel drive and were built in Oppama, Japan.

The first 1991 G20 was completed on July 10, 1990. The final 1996 G20 was completed on July 19, 1996. The P10 featured the first application of Nissan's multi-link front suspension in a front-wheel-drive car, with an independent MacPherson strut setup in the rear. It came standard with a 5-speed manual transmission. The only options to begin with were an automatic transmission, leather interior, and a power glass moonroof; a Touring package (labeled G20t) was introduced in 1994 and featured a black leather interior with sport front bucket seats and fold-down rear seats, as well as a limited-slip differential in the transmission and a spoiler on the rear decklid.



» Read More About Infiniti G20