id:a1338469219b7674721
2011 Infiniti FX37
Photo #1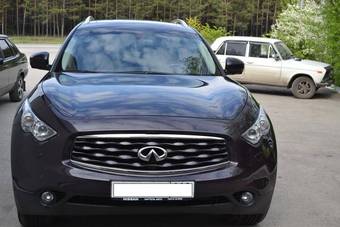 Photo Information (Width: 340px, Height: 227px, Size: 15Kb)
| | |
| --- | --- |
| Transmission Gearbox - Number of speeds: | Automatic |
| Fuel Type: | Gasoline |
| Drive wheels - Traction - Drivetrain: | 4WD |
| Price (out of date): | $65176 |
2011 Infiniti FX37 specs, Fuel type Gasoline, Drive wheels 4WD, Transmission Gearbox Automatic
Infiniti is the luxury car division of Japanese automaker Nissan Motor Co., Ltd. Infiniti sales officially started in November 8, 1989 in North America and its global operations have since grown to include Mexico, the Middle East, South Korea, Taiwan, Russia, Switzerland, China & Ukraine. Today, the Infiniti global network includes more than 230 dealers in 15 countries.

Carlos Ghosn, President and CEO of Nissan Motor Co. Ltd., unveiled Infiniti's arrival in Europe at the Geneva Motor Show 2008. The official launch is scheduled in the autumn of 2008 and will be phased over a two year period as Infiniti rolls out its operations across 21 European countries. Infiniti Europe's headquarters are based in Rolle, Switzerland.
All current Infiniti coupes, sedans and crossovers are based on the Nissan FM platform. The center of the engine is placed behind the front wheels. This placement makes weight distribution more even, which is intended to improve braking, acceleration, and handling. It also reduces the polar moment of inertia. The only exception is the QX56 full-size SUV, which rides on the Nissan F-Alpha platform.
Infiniti's model name designation includes one letter for coupés and sedans (two letters for SUVs) and a number reflecting engine displacement. For example, the QX56 is an SUV featuring a 5.6L engine. An exception to this was the QX4 SUV, which featured a 3.3L engine (1997-2000) and later a 3.5L engine (2001-2003). An 'x' following the engine displacement of Infiniti sedans denotes an all wheel drive model (e.g. Infiniti G35x) while 's' denotes a sport package model on the G35 sedan, M series sedans, and G37 Coupe.
1989: The beginning
The Infiniti brand was introduced in the United States in 1989. Its purpose back then, as it is now, was to create and sell premium vehicles in the United States that wouldn't have otherwise fit in with Nissan's more mainstream image. Not by coincidence, Infiniti was created around the same time as Japanese rivals Toyota and Honda's luxury brands, Lexus and Acura respectively, in the U.S. The brand's sales were disappointing, a fact many attribute to some of Infiniti's poorly received advertising at the time. The company's initial campaign aimed to bring about brand awareness with Zen-influenced spots that focused on nature. However, the ads didn't show the actual cars, and many believe this omission did no favors for a company that was hoping to have buyers recognize and clamor for its vehicles.



» Read More About Infiniti