id:a1241620210b2671940
2008 Honda Ridgeline
Photo #1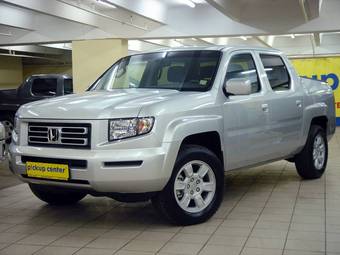 Photo Information (Width: 340px, Height: 255px, Size: 14Kb)
| | |
| --- | --- |
| Engine size - Displacement - Engine capacity: | 3471 cm3 |
| Transmission Gearbox - Number of speeds: | Automatic |
| Fuel Type: | Gasoline |
| Drive wheels - Traction - Drivetrain: | 4WD |
| Price (out of date): | $54000 |
2008 Honda Ridgeline specs, Engine size 3.5, Fuel type Gasoline, Drive wheels 4WD, Transmission Gearbox Automatic
| | |
| --- | --- |
| | The Honda Ridgeline is a mid-size sport utility truck produced by the Japanese automaker Honda. The Ridgeline was released in March 2005 as a 2006 model and is Honda's intended first foray into the North American pickup truck market. The Ridgeline is built in Alliston, Ontario, Canada alongside the Acura MDX, Honda Civic, Honda Civic Si, and Acura CSX. The Ridgeline was awarded Motor Trend's Truck of the Year for 2006. The Ridgeline is the only car-based pickup in the United States and Canada. |
Used Honda Ridgeline
Unibody architecture
The Honda Ridgeline uses unibody architecture ladder frame / unibody hybrid chassis. Honda claims this design gives it 2.5 times more bending rigidity and 20 times the torsional rigidity than the standard ladder frame only type of chassis construction, while retaining the load carrying capacity of the traditional ladder frame.
Independent rear suspension
The truck also boasts four-wheel independent suspension which, coupled with the unibody design, provides a new level of stable and sure handling under load well beyond that which could be achieved with older platforms.
A pickup with a trunk
Another advantage of the independent suspension is that it opened up enough space for Honda to create the first pickup truck to include a storage trunk below the bed, which can be locked to secure contents, such as a tool chest. This creates the unfortunate problem of having to remove most of the bed contents (a serious problem when hauling top soil or other granular materials) to change a flat tire, as the spare is located in this trunk. The bed also comes standard with a composite liner that resists dents, corrosion, and can easily be hosed clean. The trunk has drainage holes to allow wash water to flow out.



» Read More About Honda Ridgeline