id:a1249401057b2932655
2002 Honda Pilot
Photo #1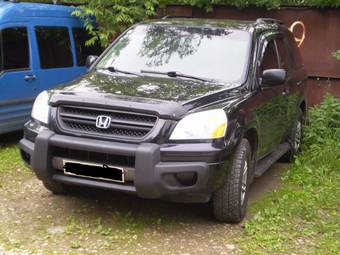 Photo Information (Width: 340px, Height: 255px, Size: 18Kb)
| | |
| --- | --- |
| Engine size - Displacement - Engine capacity: | 3500 cm3 |
| Transmission Gearbox - Number of speeds: | Automatic |
| Fuel Type: | Gasoline |
| Drive wheels - Traction - Drivetrain: | 4WD |
| Price (out of date): | $21767 |
Designed and built by Honda, the Pilot enters 2003 replacing the Passport in the mid-size utility segment. Boasting a 3.5L V6 engine and a five-speed automatic transmission, the Pilot has a standard towing capacity of 3,500 lbs. This full-time 4WD drive vehicle has a seating capacity of eight and features an electronically locking rear differential, eight inches of ground clearance, and a unique second-row child''s activity tray.
2002 Honda Pilot specs, Engine size 3.5l., Fuel type Gasoline, Drive wheels 4WD, Transmission Gearbox Automatic
This article is about the Honda SUV model. For the Honda ATV model, see Honda Pilot (ATV).

The Honda Pilot is a mid-size SUV and is Honda's second SUV fully built and designed by Honda, released in the summer of 2002 for the 2003 model year to replace the body-on-frame Passport, which was a rebadged Isuzu Rodeo, which was sold only in the United States, although the Passport was Honda's first SUV sold from 1994-2002. The Honda Pilot is built in Lincoln, Alabama and was built in Alliston, Ontario, Canada up until April 2007. The Pilot is now built exclusively at the Lincoln, Alabama plant. The Pilot shares underpinnings and the powertrain with the Acura MDX, which has a lineage which can be traced to the Honda Odyssey minivan. The Pilot's unibody construction, however, is fortified with integrated perimeter frame rails, which helps it withstand light off-road use.
The Pilot was designed to fill a large American demand for SUVs. Prior to the introduction of the Pilot, Honda only had the smaller CR-V based on the Civic, and the aforementioned Passport. However, the CR-V lacked in features many American consumers looked for in an SUV, which are overall size, passenger space, and towing capacity. The Pilot is at most designed to withstand light-duty off-roading.
The Pilot has been a best-seller for Honda, with Honda selling over 100,000 Pilots in 2004, an increase of almost 20% over 2003. For 2006, the Pilot received new front and rear fascias, a redesigned interior, and various standard safety features.
The Pilot is sold in North America, while Japan and Australia get its relative, the Honda MDX instead. In the Middle East, the Pilot is sold as the Honda MR-V. The second generation 2009 Pilot is also available in Russia and Ukraine.
Specifications
Like the first-generation MDX, the Pilot is propelled by an aluminum alloy 3.5 L SOHC, 24-valve VTEC V6 engine. The engine is rated at 240hp (179kW) and 242lb·ft (328N·m) of torque, and mated to a five-speed automatic, which, as tested, results in a 0-60 mph time of 7.6 seconds and 1/ 4 mile sprint of 15.9 seconds. For the 2007 model, the power was increased to 244hp (182kW), 240lb·ft (325N·m) of torque and includes a drive-by-wire throttle. The Pilot weighs in at a little over 4,400lb (1,996kg), with a United States Environmental Protection Agency (EPA) estimated gas mileage for 2007 of 16mpg-US (15L/ 100km; 19mpg-imp) city and 22mpg-US (11L/ 100km; 26mpg-imp) highway for the two wheel drive model, and 15mpg-US (16L/ 100km; 18mpg-imp) city and 20mpg-US (12L/ 100km; 24mpg-imp) highway for the four wheel drive model. Also, like the MDX, the Pilot rides on struts up front with a coil-spring, multilink arrangement at the rear designed to allow a flat load floor. It also has the MDX's wide track — 66.3in (1684mm) at the front and 66.5in (1689mm) at the rear. The Pilot has a 4,500lb (2,041kg) boat/ 3,500lb (1,588kg) trailer towing capability.



» Read More About Honda Pilot