id:1625959
1993 Honda Legend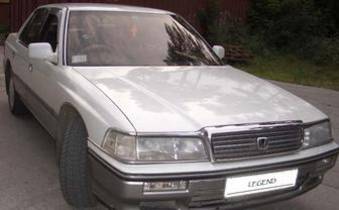 Photo Information (Width: 339px, Height: 210px, Size: 10Kb)
More photos of
Honda Legend
Honda Legend Problems
Timig chain problem
1992, i am find it difficult to set the timing
chain of the vehicle, i loosed the engine and i...
High fuel consumption
1993, The car has a problem of high fuel
consumption...
Gear problem
2000, my honda legend 2000model, enter all the
gears but does not moves either fron or back, b...
| | |
| --- | --- |
| Engine size - Displacement - Engine capacity: | 2000 cm3 |
| Transmission Gearbox - Number of speeds: | Automatic |
| Fuel Type: | Gasoline |
| Drive wheels - Traction - Drivetrain: | FF |
| Price (out of date): | $5000 |
1993 Honda Legend specs, Engine size 2.0, Fuel type Gasoline, Drive wheels FF, Transmission Gearbox Automatic
This page is about this vehicle's Japanese model. See Acura Legend for information on the North American model. Sections of this article are translated from Japanese Wikipedia.

The Honda Legend is a Full-size luxury car made by the Japanese automaker Honda. It was originally developed as part of Project XX, a joint venture with the Austin Rover Group of Great Britain and was a twin of the Rover 800 series.
The Legend was initially a four-door sedan, with a two-door coupé added later. It was the model which launched Honda's upscale Acura brand in the United States. Honda was inspired by the word "legend" to create the first Honda vehicle with a V6.

The first and second-generation Honda Legend was known as the Acura Legend in North American markets from 1986-1995, and in 1996 the third-generation was renamed as the Acura RL, while the Legend name is still used in Japan and other markets.

Honda introduced the Legend as a flagship sedan to compete with the JDM Nissan Cedric and Nissan Gloria twins, the Toyota Crown, and later the Mazda Luce, and Mitsubishi Debonair. Unlike the Nissan twins and the Crown, the Legend is not used for taxi service. In the USA, the Legend competed with larger rear wheel drive V8 sedans Lexus LS and the Infiniti Q45, however, the Legend was marketed towards the slightly smaller Executive car vehicles that include the BMW 5 series, Audi A6, Mercedes-Benz E-Class, and the Jaguar S-type.



» Read More About Honda Legend