id:a1333683051b7167618
Honda Insight Specs The innovative hybrid system is powered with an Integrated Motor Assist (IMA), which combines a 1.0 liter, 3-cylinder engine and an electric motor. The IMA system gives the Insight the most fuel-efficient gasoline-powered engine. It delivers an EPA fuel economy of 61 mpg city and 70 mpg highway.
2010 Honda Insight
Photo #1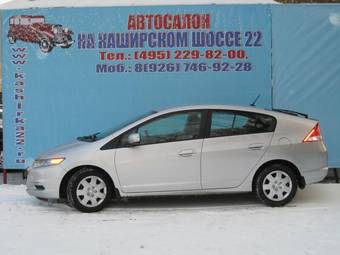 Photo Information (Width: 340px, Height: 255px, Size: 12Kb)
More photos of
Honda Insight
Insight Troubleshooting
Wind noise at windscreen
2011, when I drive 100~110km/h got wind sound
at my windscreen. Send to Honda PJ still cannot
...
Languge Change
2009, Can anybody tell is there a way to change
the display language of Honda Insight domestic...
| | |
| --- | --- |
| Engine size - Displacement - Engine capacity: | 1300 cm3 |
| Transmission Gearbox - Number of speeds: | Automatic |
| Drive wheels - Traction - Drivetrain: | FF |
| Price (out of date): | $22658 |
2010 Honda Insight specs, Engine size 1.3l., Drive wheels FF, Transmission Gearbox Automatic
| | |
| --- | --- |
| | The Honda Insight is a hybrid electric vehicle manufactured by Honda and the first production vehicle to feature Honda's Integrated Motor Assist system. The first-generation Insight was produced from 2000 to 2006 as a three-door hatchback. |
Honda will introduce the forthcoming second-generation Insight in early 2009 as a five-door hatchback.
History
Based on the Honda J-VX concept car unveiled at the 1997 Tokyo Motor Show, the Insight was introduced in 1999 and was the first production vehicle to feature Honda's Integrated Motor Assist system. The Insight was also the first hybrid sold in North America. It featured optimized aerodynamics and a lightweight aluminum structure to maximize fuel efficiency and minimize emissions.
Total global sales for the Insight amounted to only around 18,000.
Design
The Honda Insight was a subcompact hatchback 3,945mm (155.3in) in length with a wheelbase of 2,400mm (94.5in) a height of 1,355mm (53.3in) and a width of 1,695mm (66.7in). The Insight was only available as a two-seater. Only three different trims were available: a manual transmission without air-conditioning, a manual transmission with air-conditioning, and a continuously variable transmission with air-conditioning. Although produced until 2006, the only major change was the introduction of a trunk mounted, front controlled, multiple CD changer.



» Read More About Honda Insight