id:1263854
Honda CR-V Specs Honda's affordable, small/midsize size sport utility.
1996 Honda CR-V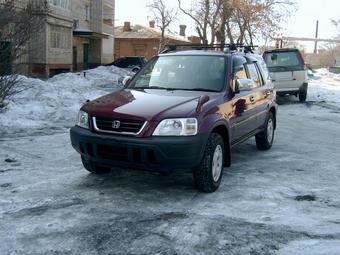 Photo Information (Width: 340px, Height: 255px, Size: 19Kb)
| | |
| --- | --- |
| Engine size - Displacement - Engine capacity: | 2000 cm3 |
| Transmission Gearbox - Number of speeds: | Automatic |
| Fuel Type: | Gasoline |
| Price (out of date): | $9998 |
1996 Honda CR-V specs, Engine size 2.0l., Fuel type Gasoline, Transmission Gearbox Automatic
"Cr-V" redirects here. It is also a shorthand referring to chromium-vanadium alloy tool steels.

The Honda CR-V is a compact crossover SUV manufactured by the Japanese automaker Honda since 1996. It was loosely derived from the Honda Civic to satisfy a public demand for a sport-utility vehicle from Honda. There are discrepancies as to what "CR-V" stands for, with Honda sources in different markets citing different meanings. Though Honda sales literature in UK reportedly makes references to "Compact Recreational Vehicle", other Honda references (including the official Honda Japan CR-V Fact Book and Honda Worldwide) cite "Comfortable Runabout Vehicle". It is produced in both all-wheel drive and front-wheel drive, although in many markets such as the United Kingdom and Australia, only all-wheel drive is offered.
Used Honda CR-V
Honda produces CR-Vs in the United Kingdom and Japan for worldwide markets, and as of 2007, North American CR-Vs are produced in East Liberty, Ohio. The CR-V is produced for the Chinese market by the Dongfeng Honda Automobile Company, a joint venture with Honda. Starting in fall 2007, North American CR-Vs will also be produced in Jalisco, Mexico in addition to the US, Japan, and Britain due to high demand. Honda executives considered making the CR-V as one of the first vehicles to be produced at Honda's new facility currently under construction in Greensburg, Indiana that will open in fall 2008; however, the facility will initially exclusively produce the Civic, which may free up space in East Liberty for CR-V production from the 2009 model year onward. Elsewhere, the CR-V is Honda's smallest SUV other than the related Element sold in the United States and Canada, and the HR-V sold in Europe. In size, the CR-V slots between the Element and Pilot.

Introduced in Japan in 1996, the CR-V was Honda's first in-house designed SUV and was originally intended to be a niche vehicle only. Honda was hesitant to market the vehicle, since many felt the car did not have potential to sell alongside the Honda Passport and to take over the role of Honda's entry-level SUV. In the United States, it was displayed for the first time at the 1996 Chicago Auto Show. Citing strong sales from the comparable Toyota RAV4 upon its release, the model was then brought stateside in February 1997. Shortly afterwards, CR-V sales outpaced those of the smaller RAV4[citation needed], and the compact SUV has maintained strong sales and gained accolades ever since.



» Read More About Honda CR-V