id:a1124922649b752296
1999 Honda City
Photo #1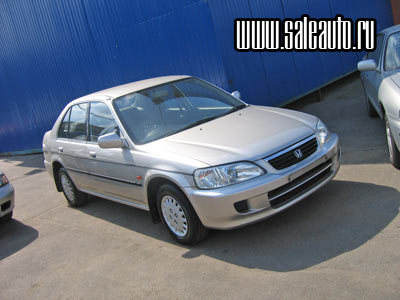 Photo Information (Width: 400px, Height: 300px, Size: 25Kb)
More photos of
Honda City
Honda City Problems
Car body
2022, dear i buy car April 2022 , only 16
days used after ,left door problem started ,6
and ...
Spare parts
2001, Hi am using 2002 model honda city but
unfortunately my car DELCO spare not working
but i...
After 1 yr of storage and battery went drain wh...
2010, after 1 yr of storage and battery went
drain while body repair is going, wefound out
tha...
1999 Honda City specs
The Honda City is a subcompact car manufactured by the Japanese manufacturer Honda since 1981 for the Asian market.

Since 2002, the City is also known as the Honda Fit Aria. It is a subcompact sedan that uses Honda's Global Small Car platform, which is also used by the Fit/ Jazz (a five-door hatchback), the Airwave (a wagon version of the Fit Aria/ City), the Mobilio, and the Mobilio Spike. One of the characteristics shared by the Fit/ Jazz, City/ Fit Aria, and Airwave, is the location of the fuel tank. Rather than placing it under the rear seats, it is located under the front seats, thereby freeing up valuable room in the back.
The first Honda City was made in 1981.

Honda replaced the original City in 1986 (designated GA1), with an update in 1989 (GA2). This model was produced until 1994. The Fit name also first appeared as a trim variant of the City. There was no convertible model. In most European and Australasian markets, the City's market position was filled by the Honda Logo in 1999.

The third-generation Honda City, codenamed SX8, was based on the EF Civic platform. It was designed for and sold in the South East Asian market only.

This City is still a subcompact slotting beneath the Honda Civic, but a four-door sedan model instead for developing markets in Asia, and was built in India, Thailand, Malaysia, Indonesia, Philippines and Pakistan. A revised, face-lifted third-generation City was released in 2000, and included sports sedan models powered by Honda's 1.5L VTEC engines.



» Read More About Honda City