id:553936
Available in 2 and 4 wheel drive with the following engine options:
6.5L 8 Cylinder 195 hp Turbo Diesel
Vortec 5.7L 8 Cylinder 255 hp Gas
Vortec 7.4L 8 Cylinder 290 hp Gas
Standard features include ABS and automatic transmission.
1985 GMC Suburban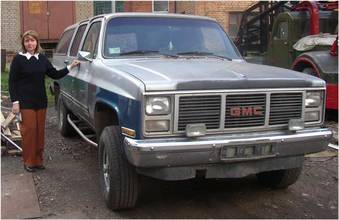 Photo Information (Width: 339px, Height: 220px, Size: 14Kb)
More photos of
GMC Suburban
Suburban Troubleshooting
Wont start
1997, no fire at #1 plug engine just keep
spinning will not start pull #1 spark plug wire
rest...
| | |
| --- | --- |
| Engine size - Displacement - Engine capacity: | 6200 cm3 |
| Transmission Gearbox - Number of speeds: | Automatic |
| Fuel Type: | Diesel |
| Price (out of date): | $7200 |
1985 GMC Suburban specs, Engine size 6.2, Fuel type Diesel, Transmission Gearbox Automatic
This article is about a type of vehicle.

The Chevrolet Suburban is a large sport utility vehicle from Chevrolet. It is the longest-lived continuous automobile nameplate still in production, dating from 1935 and is likely to be produced under this name for the foreseeable future. For most of its recent history, the Suburban has been a station wagon bodied version of the Chevrolet pickup truck, including the Chevrolet C/ K series of truck-based vehicles. It has been traditionally one of General Motors' most profitable vehicles, with relatively high resale value for an American truck and station wagon.[citation needed] The planned replacements for the Chevrolet Suburban and the Chevrolet Tahoe were cancelled by GM executives in 2008.
Many automotive companies in the United States used the "Suburban" name to indicate a windowed, station wagon type body on a commercial frame including Dodge, Plymouth, Studebaker, Nash, Chevrolet, and GMC. With the end of production of the Dodge Town Wagon in 1966, only General Motors continued to manufacture a vehicle branded as a "Suburban", and they were awarded an exclusive trademark on the name in 1988. The Suburban is one of the largest SUVs on the market. It has outlasted many competitive vehicles such as the International Harvester Travelall, Jeep Wagoneer, and the Ford Excursion. The latest competitor is an extended Ford Expedition.

The Suburban of the 1990s and 2000s is a full-size SUV with three rows of seating, a full pickup truck frame, and V8 engine. The trucks are popular with large suburban families due to their "go anywhere, haul anything" nature, but have been criticized for their excessive bulk and poor fuel economy. The Suburban is one of the few station wagons available with all bench rows. Unlike smaller 3-row full-sized SUV's such as the Tahoe, the extra length provides a full-sized cargo area behind the up to 9 passengers to carry their luggage for an extended trip, and tow a sizeable trailer. This class of truck remains much more popular than full-sized vans which can carry even more passengers and tow trailers.



» Read More About GMC Suburban