2005 GMC Canyon Pictures
2005 GMC Canyon specs: mpg, towing capacity, size, photos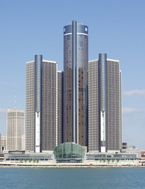 General Motors Corporation (GM) (NYSE:GM) of Detroit, Michigan, USA, is the world's second largest automaker. Founded in 1908, GM today employs about 266,000 people around the world.
Main article: History of General Motors
General Motors (GM) was founded on September 16, 1908, in Flint, Michigan, as a holding company for Buick, then controlled by William C. Durant, and acquired Oldsmobile later that year. The next year, Durant brought in Cadillac, Elmore, Oakland (later known as Pontiac) and several others. In 1909, General Motors acquired the Reliance Motor Truck Company of Owosso, Michigan, and the Rapid Motor Vehicle Company of Pontiac, Michigan, the predecessors of GMC Truck. Durant lost control of GM in 1910 to a bankers' trust, because of the large amount of debt taken on in its acquisitions coupled with a collapse in new vehicle sales. A few years later, Durant would start the Chevrolet Motor car company and through this he secretly purchased a controlling interest in GM. Durant took back control of the company after one of the most dramatic proxy wars in American business history. Shortly after, he again lost control for good after the new vehicle market collapsed. Alfred Sloan was picked to take charge of the corporation and led it to its post war global dominance. This unprecedented growth of GM would last through the late 70's and into the early 80's.
General Motors currently employs approximately 266,000 people around the world. GM's global headquarters is the Renaissance Center located in Detroit, Michigan, United States. In 2007, 9.35 million GM cars and trucks were produced in 19 different countries. GM is the majority shareholder in GM Daewoo Auto & Technology Co. of South Korea and has had many collaborations with the world's various automakers. This includes product, powertrain and purchasing collaborations with Suzuki Motor Corp. and Isuzu Motors Ltd. of Japan, advanced technology collaborations with Toyota Corporation and BMW AG of Germany and vehicle manufacturing ventures with several of the world's automakers including Toyota, Suzuki, Shanghai Automotive Industry Corp. of China, AvtoVAZ of Russia, Renault SA of France, and most recently, UzAvtosanoa of Uzbekistan. GM also had collaborations with Fiat S.p.A (see GM/ Fiat Premium platform) and Ford Motor Company. To this day, GM retains various stakes in many different automakers.



» Read More About GMC