id:a1250513472b2961000
2002 Ford Taurus
Photo #1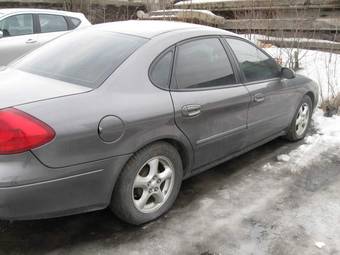 Photo Information (Width: 340px, Height: 255px, Size: 13Kb)
More photos of
Ford Taurus
Ford Taurus Problems
No heat
1997, no heat not sure what it is took
thermostat out and still no heat.not sure what
it is he...
Starting
2002, my 2002 Ford Taurus was transported from
Miami to Toronto on a car carrier 4 days ago. s...
Cyclinoid wiring
1987, when cyclinoid got changed out mechanic
rewired incorrectectly red wire began melting
ev...
| | |
| --- | --- |
| Engine size - Displacement - Engine capacity: | 2970 cm3 |
| Transmission Gearbox - Number of speeds: | Automatic |
| Fuel Type: | Gasoline |
| Drive wheels - Traction - Drivetrain: | FF |
| Price (out of date): | $6620 |
The Taurus is offered in a four-door sedan and four-door wagon models with optional ABS. The following engine options are available; a 3.0-liter, 145 hp V-6; 3.0-liter, 200 hp V-6; 3.4-liter, 235 hp V-8. All come with a 4-speed automatic.
2002 Ford Taurus specs, Engine size 3.0, Fuel type Gasoline, Drive wheels FF, Transmission Gearbox Automatic
Not to be confused with Ford Taunus.

The Ford Taurus is an automobile manufactured by the Ford Motor Company in the United States. Originally introduced in the 1986 model year, it has remained in near continuous production for more than two decades, making it the fourth oldest nameplate that is currently sold in the Ford lineup. It has had a more upscale Mercury branded version entitled the Sable (1986-2005; 2008-2009), as well as a performance variant, the Ford Taurus SHO (1989-1999). It was a front-wheel drive mid-size car during its first production run, and it is now a full-size car available in front- or all-wheel drive. It is currently sold alongside a crossover SUV variant, the Ford Taurus X.
The original Taurus was a milestone design for Ford and the entire American automotive industry, as well as a very influential vehicle that brought many new features and innovations to the marketplace. Since its launch in 1986, Ford has sold over 6.7million Tauruses worldwide as of 2007, making it the fifth bestselling North American nameplate in Ford's history; only the F-150, Escort, Model T, and Mustang have sold more units. Between 1992 and 1996, the Taurus was the best-selling car in the United States, eventually losing the title to the Toyota Camry in 1997

In the late 1990s and early 2000s, sales of the Taurus declined as it lost market share to Japanese midsize sedans, and as Ford shifted resources towards developing SUVs. It was discontinued in 2006, with production initially ending on October 27, 2006 and 2007 being the last model year. Rather than investing in an older nameplate, Ford had decided to replace the Taurus with the fullsize Five Hundred and midsize Fusion sedans, as well as replacing the Taurus wagon with the Freestyle crossover SUV.



» Read More About Ford Taurus