id:a1237272584b2548852
1996 Ford Escort
Photo #1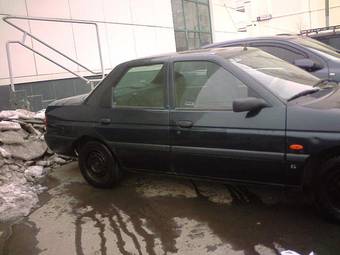 Photo Information (Width: 340px, Height: 255px, Size: 13Kb)
More photos of
Ford Escort
Ford Escort Problems
Problem with a start.
1996, This car stay for 1 year without
starting. Now we want to use it bt it not want
to start...
Engine probem
1995, It started shuddering the engine then it
would stop for a coupla months then this past 2...
Wiring on battery
2003, not getting power to fuel pump which is
causing it not to start,someone had stole the
ba...
| | |
| --- | --- |
| Engine size - Displacement - Engine capacity: | 1300 cm3 |
| Transmission Gearbox - Number of speeds: | Manual |
| Fuel Type: | Gasoline |
| Drive wheels - Traction - Drivetrain: | FF |
| Price (out of date): | $3732 |
The Escort is offered as a two-door coupe, four-door sedan, and a four-door wagon. It's powered by a 2.0-liter, 110-hp SOHC 4 cylinder(130-hp DOHC version available) and a 5-speed manual or a 4-speed automatic. ABS is optional.
1996 Ford Escort specs, Engine size 1.3, Fuel type Gasoline, Drive wheels FF, Transmission Gearbox Manual
See also Ford Escort (Europe).

The Ford Escort is a compact car that was manufactured by the Ford Motor Company. The North American Escort adopted both the badge and the general design of a redesigned European model, and the name has been applied to several different designs in North America since its introduction as Ford's first successful world car. The Escort was Ford's first front-wheel-drive car built in North America.
Used Ford Escort
The Ford Escort was based on the Mazda B-platform since 1991. It replaced the dated Ford Pinto subcompact car (1971-80) with a modern front-wheel drive design popularized by the successful introduction of the Volkswagen Rabbit. It also effectively replaced the smaller Ford Fiesta, which was imported from Europe from 1978-80. Though mechanically sophisticated, the Fiesta was too small, even for a Pinto replacement.

The Escort was one of Ford's most successful models in the 1980s, earning a much better reputation than the Pinto, which faced widely-publicized safety issues. In fact, the Escort was the single best-selling car in its second year in the United States and during most of that decade.

Introduced in 1981, the first American Escort was intended to share common components with the European Mk III (as with its sister, the Mercury Lynx), and was launched as a 2-door hatchback and as a 4-door station wagon, with the 4-door hatchback following a year later. It had considerably more chrome than the model sold elsewhere. The car was freshened in 1983.



» Read More About Ford Escort