id:a1248083415b2870148
2001 Ford Escape
Photo #2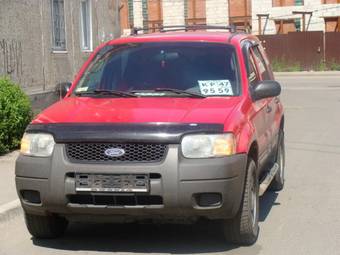 Photo Information (Width: 340px, Height: 255px, Size: 14Kb)
| | |
| --- | --- |
| Engine size - Displacement - Engine capacity: | 2000 cm3 |
| Transmission Gearbox - Number of speeds: | Manual |
| Fuel Type: | Gasoline |
| Drive wheels - Traction - Drivetrain: | FF |
| Price (out of date): | $11957 |
Engine choices include a 2.0-liter 130-horsepower DOHC four-cylinder engine coupled with a five-speed manual transmission, or a 3.0-liter 200-horsepower twin-cam V-6 combined with a five-speed automatic transmission. Buyers can choose either front-wheel drive or a full-time automatic 4x4 system.
2001 Ford Escape specs, Engine size 2000cm3, Fuel type Gasoline, Drive wheels FF, Transmission Gearbox Manual
For other Ford vehicles marketed as Ford Maverick, see Ford Maverick.

The Ford Escape (designated U204) is a compact SUV sold by the automaker Ford Motor Company introduced in 2000 as a 2001 model year and priced below the Ford Explorer. The Escape was sold in Europe as the Ford Maverick. It was jointly developed with Mazda, in which Ford owns a controlling interest, and was released simultaneously with the Mazda Tribute. In the United States, Ford's Mercury division released a luxury version called the Mariner starting with the 2005 model year.
Used Ford Escape
A hybrid version of the Escape was released in 2004, making it the first hybrid SUV.

The Escape is built on the Ford CD2 platform, which is in turn based on the Mazda GF platform, which was used by the Mazda 626.

The first generation Ford Escape was released in North America for the 2001 model year. It was slotted below the larger truck based Explorer in Ford's lineup, but was larger than the small SUV offerings from Honda and Toyota. At the time, most sport utility vehicles used a truck based Body-on-frame design. Solid rear axles were commonly used due to their ability to carry heavy loads at the expense of a comfortable ride and good handling. Ford realized that most SUV owners did not take their vehicles off road, and decided instead to use a car-like Monocoque design with a fully independent suspension and rack and pinion steering for the Escape. Although not meant for serious off-roading, a full time all wheel drive system supplied by Dana was optional which included a locking center differential activated by a switch on the dashboard. The all wheel drive system normally sends most of the power from the engine to the front wheels. If slipping is detected at the front, more power will be sent to the rear wheels in a fraction of a second. The entire braking system was built by Continental Teves including the ABS and various related suspension components. CKD production began in 2002 at Ford Lio Ho Motor Co. in Taiwan for various Asian markets.



» Read More About Ford Escape