id:2895002
2000 Daihatsu Storia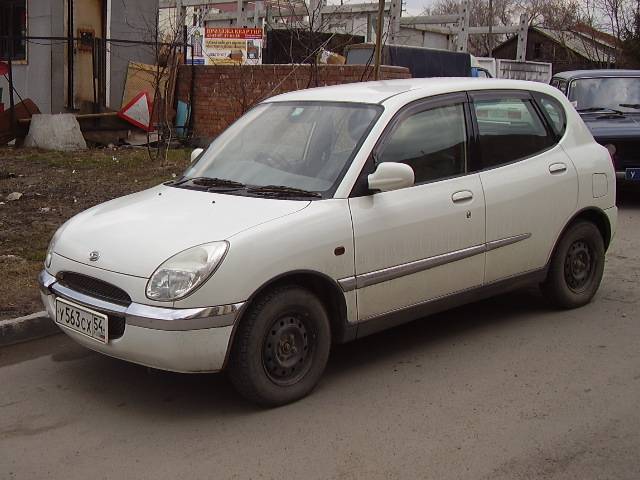 Photo Information (Width: 640px, Height: 480px, Size: 44Kb)
More photos of
Daihatsu Storia
Daihatsu Storia Problems
Boiling
2013, Boiling, and seems there is no water
circulation throughout the engine resulting in
rais...
Gearbox
1998, Hello guys. I hd prblms changing gears on
my manual 5speed gearbox. I went to my mechani...
Consume mucha gasolina
2000, hola deswpues de un cordial saludo,
quiero pedirle ayuda con el problema de consumo
de g...
2000 Daihatsu Storia specs
The Daihatsu Sirion is a subcompact car produced by the Japanese automaker Daihatsu since 1998 and marketed variously as the Daihatsu Storia , Daihatsu Boon, Toyota Duet and Toyota Passo.

The Sirion was launched in 1998 and has since undergone two upgrades, one in 2001 and another in 2004/ 2005. The version of the Sirion on sale in Europe and Australia in 2005 was first released in Japan in June 2004 under the names Daihatsu Boon and Toyota Passo.
Used Daihatsu Storia
The 1998 incarnation of the Sirion came with two petrol engines (with multi-point fuel injection): a 1.0 litre 3-cylinder with 54bhp (40kW), and a 1.3 litre 4-cylinder 86bhp (64kW) unit (shared with the Toyota Yaris). Both were available with either a 5-speed manual or an automatic gearbox. As of 2001, 1.3L models have 102bhp (76kW) engines capable of accelerating from 0-60 mph in 9.6 seconds and reaching a top speed of 111mph (179km/ h). This engine is very fuel efficient with an average rating of 49.6 mpg[vague] and the 1.0 model averaging 51.4 mpg.

There are two Rally versions of the Sirion: the Rally 2 and the Rally 4; the latter being the four-wheel drive version. The Rally models have a slightly increased engine output of 108bhp (81kW) and boast a class-leading 0-60 time of 8.1 seconds and reaching a top speed of 115mph (185km/ h), giving it 'hot hatch' credibility. The 4Track (or just 4WD in Europe) is the four-wheel drive version of the standard 1.3. The F-Speed model is equipped with Formula-1 style paddle gear changers.



» Read More About Daihatsu Storia