id:a1275460210b3695067
2009 Daihatsu Move
Photo #2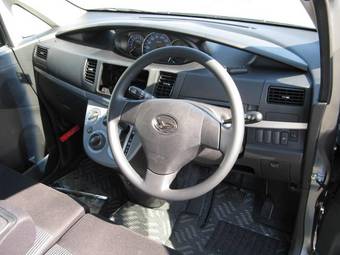 Photo Information (Width: 340px, Height: 255px, Size: 15Kb)
More photos of
Daihatsu Move
Daihatsu Move Problems
Car not starting
1999, engine rebuild and not starting all the
engine is doing turning over and over but not
st...
Spare parts
2010, where can i find the spare parts for my
daihatsu MOVE model 2010 and if somebody can te...
Blink d
2009, i have daihatsu move 2009.d blink in all
gears also in parkining like one time p one tim...
| | |
| --- | --- |
| Transmission Gearbox - Number of speeds: | Automatic |
| Fuel Type: | Gasoline |
| Drive wheels - Traction - Drivetrain: | FF |
| Price (out of date): | $9508 |
2009 Daihatsu Move specs, Fuel type Gasoline, Drive wheels FF, Transmission Gearbox Automatic
| | |
| --- | --- |
| | The Daihatsu Move is a kei car, produced by Japanese automaker Daihatsu since August 1995. The Move is designed to be as tall as compact cars like the Suzuki Wagon R. Daihatsu successfully sold 500,000 Moves during its first three years of production. The Move is built upon the chassis of the Daihatsu Cuore but with a taller body. The second generation Move (L900) used the same chassis as the first generation (L600). In 2002, the third generation Daihatsu Move (L150/ L160) was introduced. |
In October 2006, the fourth generation Move was introduced. A KF-VE-type non-turbo engine and a continuously variable transmission (CVT) were available on this model, providing superior acceleration performance and higher fuel efficiency of 23km/ L. This latest Move is also one of the few kei cars available with optional side curtain airbags. (The Honda Zest was the first.)
In addition to the 660 cc engine, the Move is also supplied with 850 cc and 1000 cc engine for export markets.
In Malaysia, Perodua also manufacture a version of the Move called the Kenari.
In China, under the joint venture between First Automobile Works and Toyota, a petrol and electrical version of Miles ZX40, based on the Daihatsu Move, were manufactured.
Turning circle: 5.0m (16ft)
Tires: 145/ 65 R13
Top speed: 140km/ h (manual) / 131km/ h (automatic)
Both 2WD (FF) and 4WD version are available.
Overall length (mm): 3,395 (2nd - 4th generation)
Overall width (mm): 1,475 (2nd - 4th generation)
Overall height (mm): 1,630 (4th generation)
Wheelbase (mm): 2,390 (3rd generation)
Wheelbase (mm): 2,490 (4th generation)


» Read More About Daihatsu Move