id:a1245686416b2784877
1990 Daihatsu Charade
Photo #1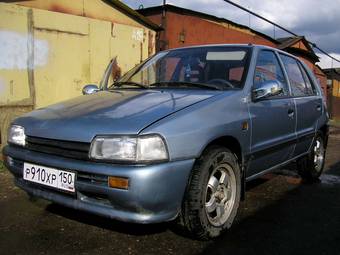 Photo Information (Width: 340px, Height: 255px, Size: 15Kb)
More photos of
Daihatsu Charade
Charade Troubleshooting
Black smoke and spark plugs
1986, I have serviced all carbourator of my car
but black smoke is still there. As I reinstal...
Need clutch kit
1999, My sister has an ex-Japanese Daihatsu
Charade 1.3cc 2000 model in Zimbabwe. I need to
fi...
Problem of menuphil
1986, My car is making a problem of cracking in
menuphil. what should i do for it??? second th...
| | |
| --- | --- |
| Engine size - Displacement - Engine capacity: | 1300 cm3 |
| Transmission Gearbox - Number of speeds: | Manual |
| Fuel Type: | Gasoline |
| Price (out of date): | $2729 |
1990 Daihatsu Charade specs, Engine size 1.3, Fuel type Gasoline, Transmission Gearbox Manual
The Daihatsu Charade was a supermini sold from 1977 to 2000. Daihatsu considers the Charade a large "compact" car to differentiate it from other compacts in its lineup, such as the Daihatsu Mira/ Cuore.

The first generation (G10) appeared in 1977. It was available as 3-door or 5-door hatchback, powered only by a 993cc 3-cylinder engine with 50hp JIS (37kW).
The early G10 (Series 1) had round headlights and the late G10 (Series 2) had square headlights.

The Daihatsu Charade was very popular in Chile during the 1980s.

The Charade sold in Chile between 1978-1984 was called the G20. The first generation (1978-1980) had round headlights, the second generation (1980-1984) had square headlights, both powered by an 843cc 3-cylinder engine. Also available was the "Runabout" version, which was a 3-door hatchback with two little round windows in the back.

The second generation (G11) was released in 1983, again as a 3- or 5-door hatchback. It featured several variations of the 3-cylinder 1.0L engine, including a turbocharged version with 68hp JIS and a Diesel version. A 5-speed manual transmission was available. The G11 was produced with two frontends, colloquially known as "square-eyes" (Series 1) and "cat-eyes" (Series 2).

In Europe, the G11 underbody, engines and transmissions were used as the basis for the Innocenti De Tomaso, after Innocenti's contract with British Leyland expired. The G11 parts continued to be used by the Italian automaker until 1992.



» Read More About Daihatsu Charade